LUXURIOUS CABINS & WELLNESS ONBOARD OCEAN VICTORY
Ocean Victory is the perfect addition to our fleet, due to its nautical technology and innovative low-energy usage. She's been designed and is currently undergoing additional preparations to satisfy our Nordic standards of service.
Our objective for safe and transformational experiences, distinguished lectures and programs, and superior-quality stays on our vessels, can now also manifest through more gentle sea crossings and a luxurious experience onboard.
Her X-BOW™ - Infinity class provides high stability in rough weather and high waves, and the spacious cabins allow for comfort and leisure between locations. Several restaurants, a wellness center and all the commodities to complete a dream voyage to the Antarctic region.
There are private balconies in approx. 90% of the staterooms, allowing you to behold the magnitude of the open ocean all around you.
Premium suite
Premium suite 45 m2 – PS
The largest of all the cabins on board the Ocean Victory is the Premium Suite. This 2-bedroom suite features a double bed (or twin beds), a sofa bed, table and chair, a balcony and spacious bathroom with bathtub. Located on deck. 4.
This category is available upon request.
Category A
Junior suite 42 m2
The 4 junior suites aboard Ocean Victory have a great view from their location high up on the ship on deck 7.
The suites feature a double bed or twin beds, sofa bed, seating area, a spacious bathroom with bathtub and private balcony. The cabin can accommodate up to 3 people. Located on the Amundsen deck 7.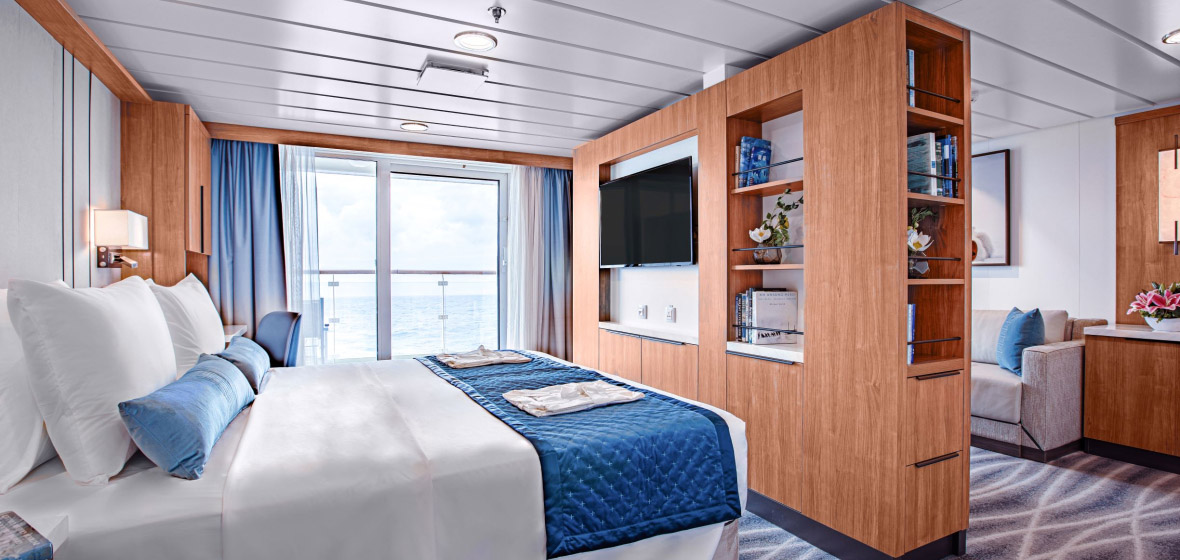 Category B1
Balcony Suite 35 m2
Ocean Victory has 2 Balcony Suites on board located on the Bering & James Cook deck respectively, located on deck 4. The suites feature double or twin beds and a seating area, bathroom with bath and private balcony. The balcony suites can host 2 people.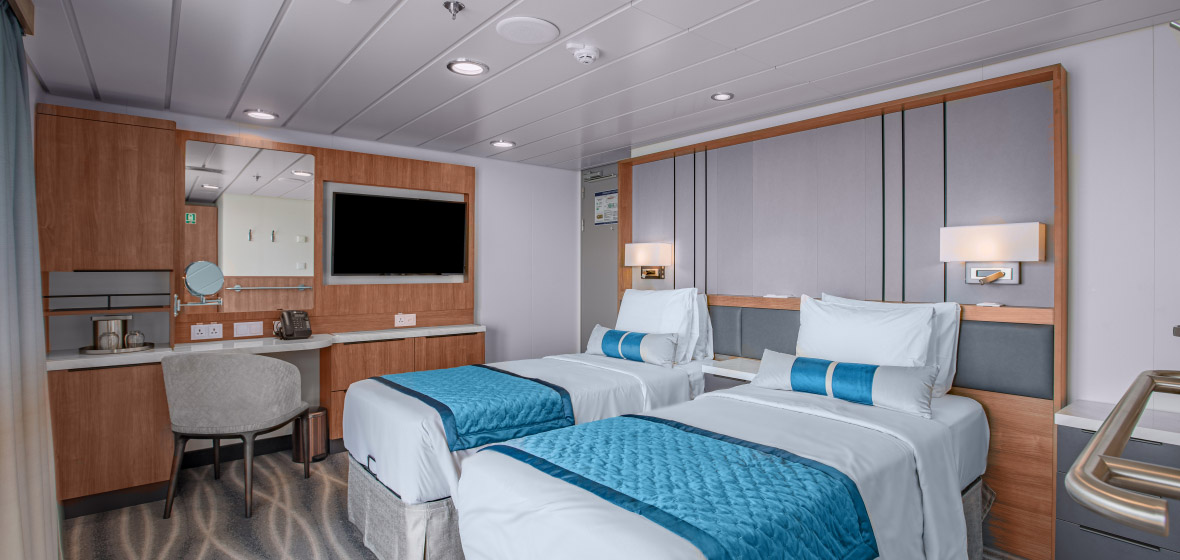 Category B2
Balcony Suite 28 m2
Ocean Victory has 4 Balcony Suites on board located on the Bering & James Cook deck respectively, located on deck 4 & 6. The suites feature double or twin beds and a seating area, bathroom with bath and private balcony. The balcony suites can host 2 people.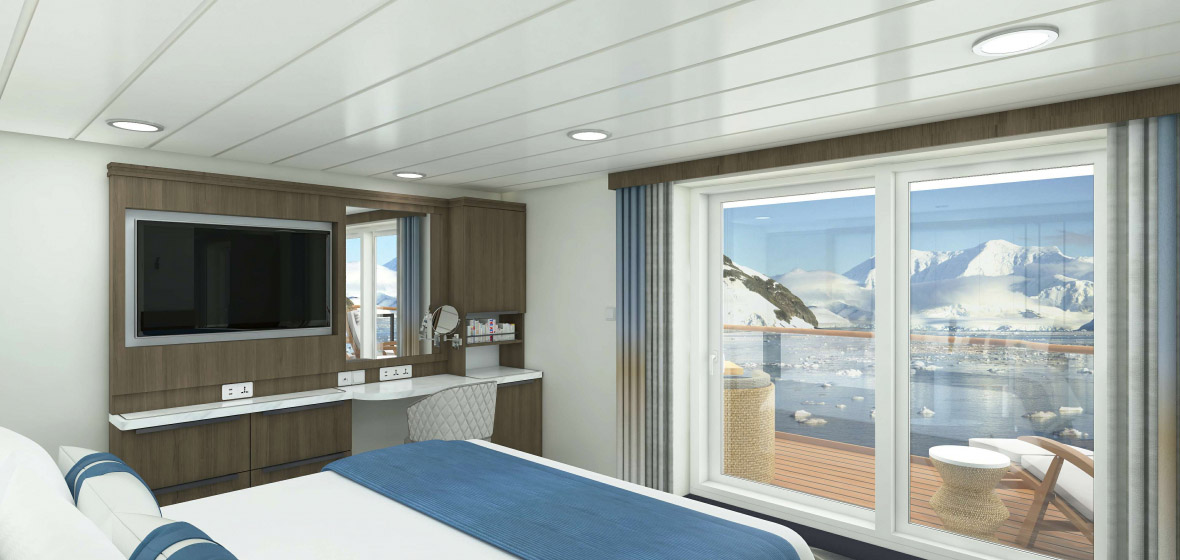 Category C
Balcony State Cabin 24 m2
The most abundant type of cabin on Ocean Victory, the Balcony State Cabins are located in decks 4 & 6. They have a private balcony, a double bed or two single beds, a bathroom with bathtub and a sofa that can be used as a bed for a child if traveling as a family. If you desire to book two cabins with connecting doors, this is also a possibility under this category.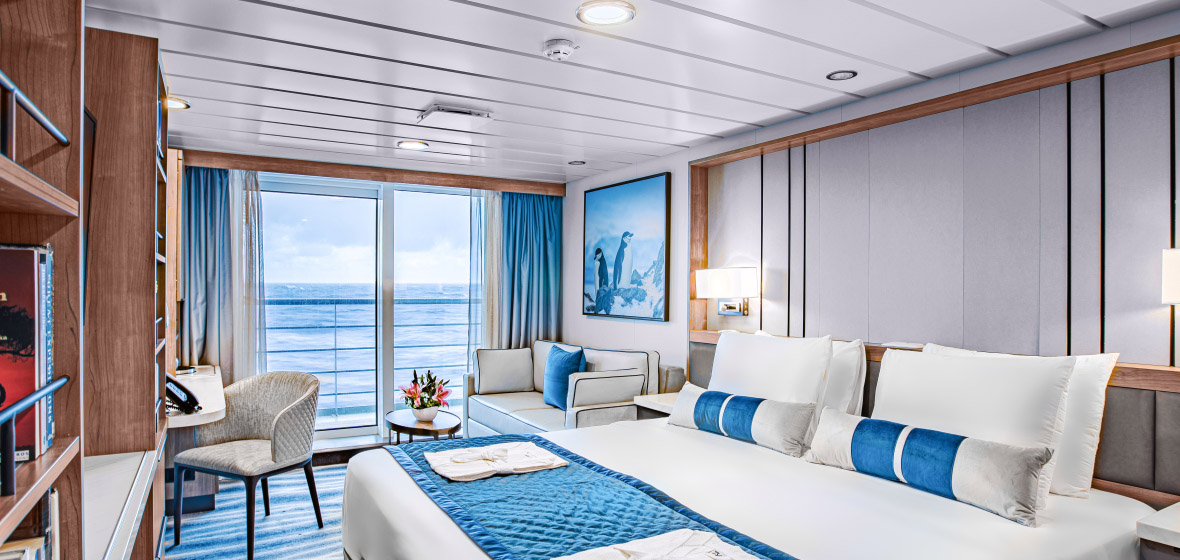 Category D
Albatros State Cabin (Porthole) 22 m2
The standard cabin on Ocean Victory is close to the Mudroom and has quick access to the zodiac platforms for disembarkation during landings. This is very convenient if you have more limited mobility and would like a short distance to the zodiacs. The cabins are perfect for those who wish a comfortable base during their stay onboard Ocean Victory. The standard cabins all have a double bed or 2 single beds and bathroom with bathtub. The cabins are located on deck 3 except for 1 which is located on deck 4.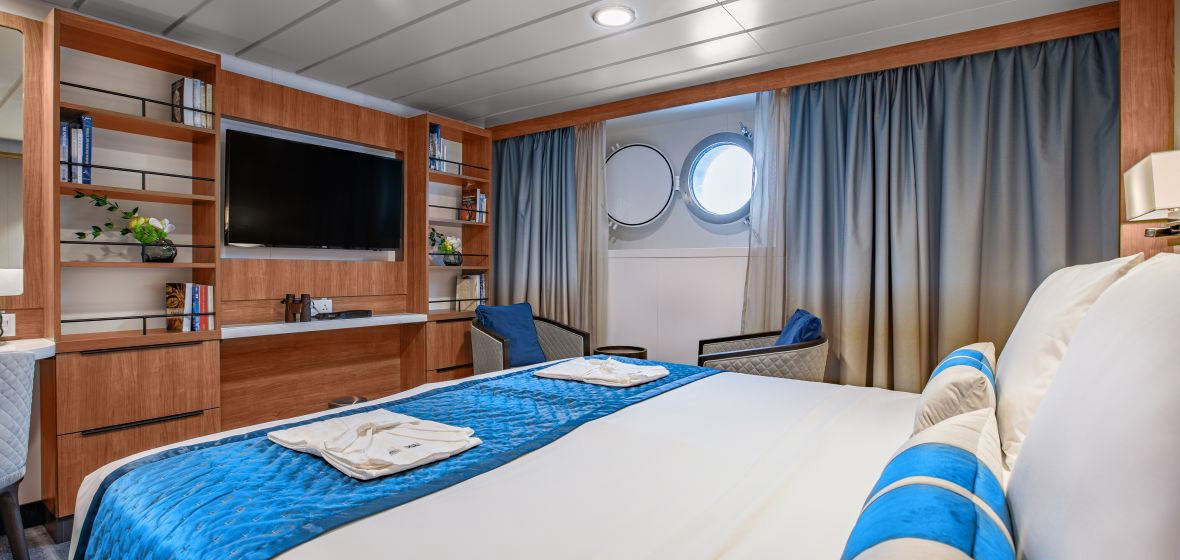 Category E
French Balcony Suite (Porthole) 16 m2
The French Balcony Suite is a standard cabin with a french balcony, a double bed, floor-to-ceiling windows and a bathroom. All French Balcony Suites are located on Deck 7.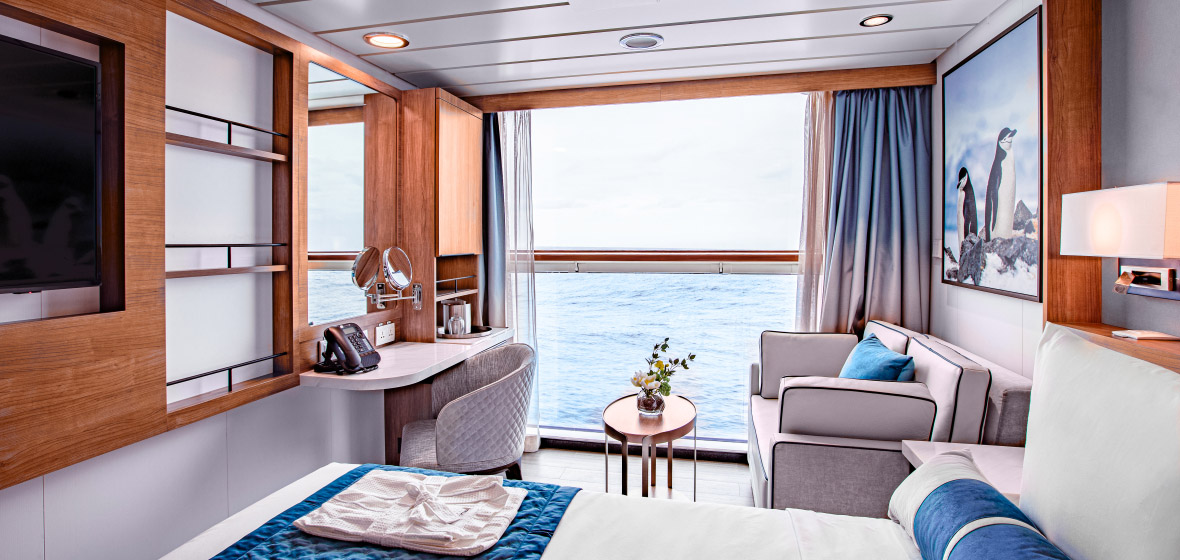 Category F
Triple Cabin (Porthole) 22 m2
There are four Triple cabins on board Ocean Victory featuring portholes, all with private en-suites. Located on Deck 3, they're close to the mudroom and loading platforms.
Triple cabins are normally with twin beds however a double bed can be accomodated.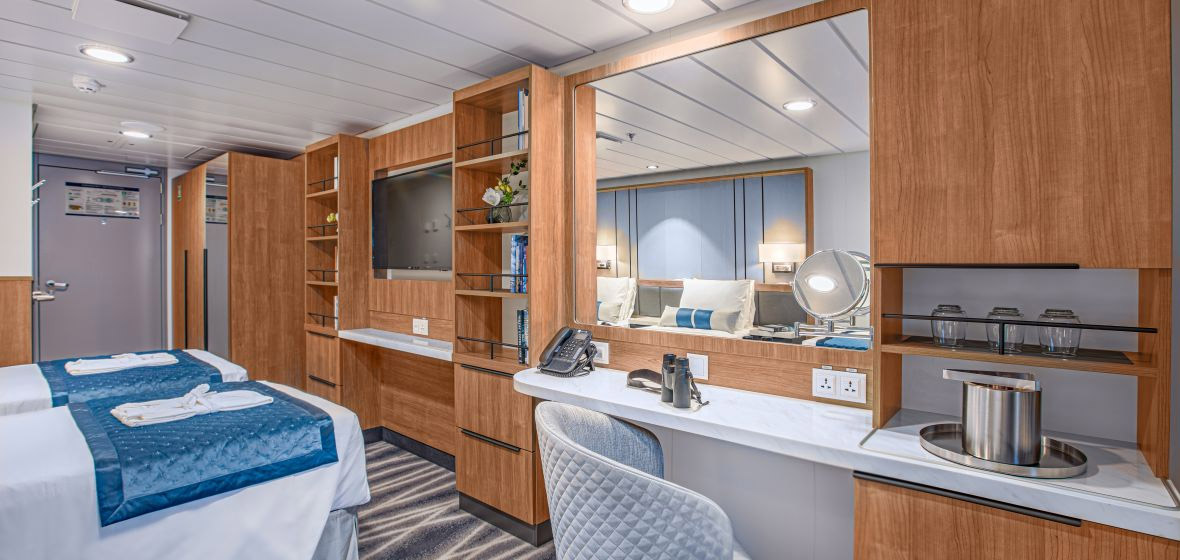 Category G
Single Cabin (Porthole) 18 m2
Standard single cabin onboard, located on deck 3. This is a conveniently located cabin close to the Mudroom which facilitates access to the zodiacs during embarkation and disembarkation to begin your adventures on the zodiacs.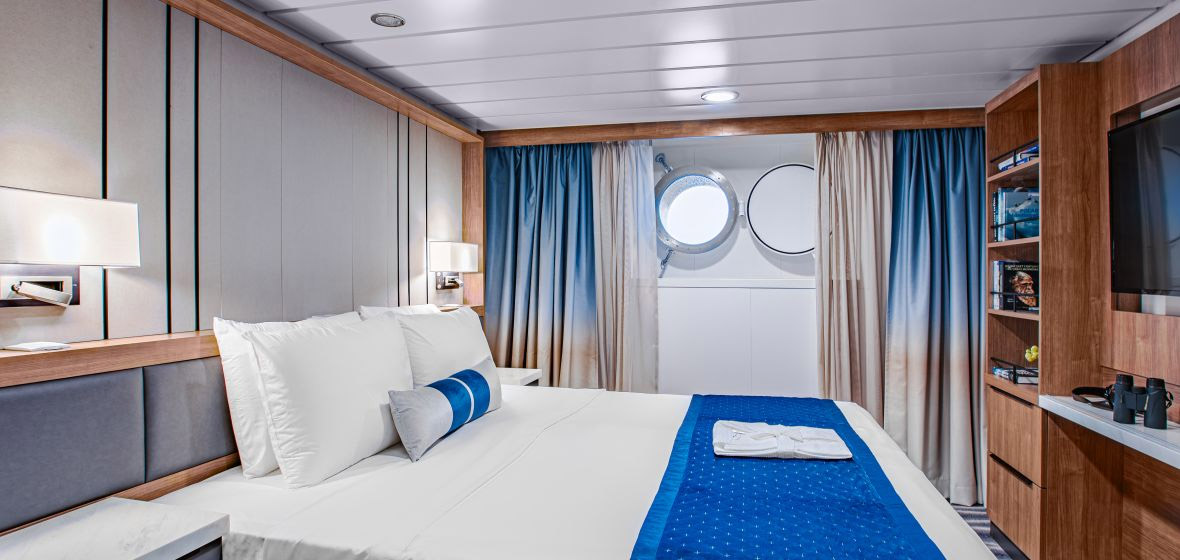 X-Bow - infinity class for more stability in rough weather

Highest Polar code Class 6

Highest Ice Class 1A

4 Diesel engines and 2 Electro engines

Solas 2012 classification

Environmentally friendly in all matters - fuel saving etc.

Green Initiative Program On-Board

Albatros Nordic Bar Lounge
Albatros Ocean Shop

Albatros Observation Lounge

Highly new and modern lecture lounge

93 large modern cabins in 4 different decks (min. 16m2)

All cabins with view to the Ocean

90% of all cabins with balcony

3 Restuarants + one Open Deck Dining Facility

Swimming Pool, Jacuzzies and Pool Bar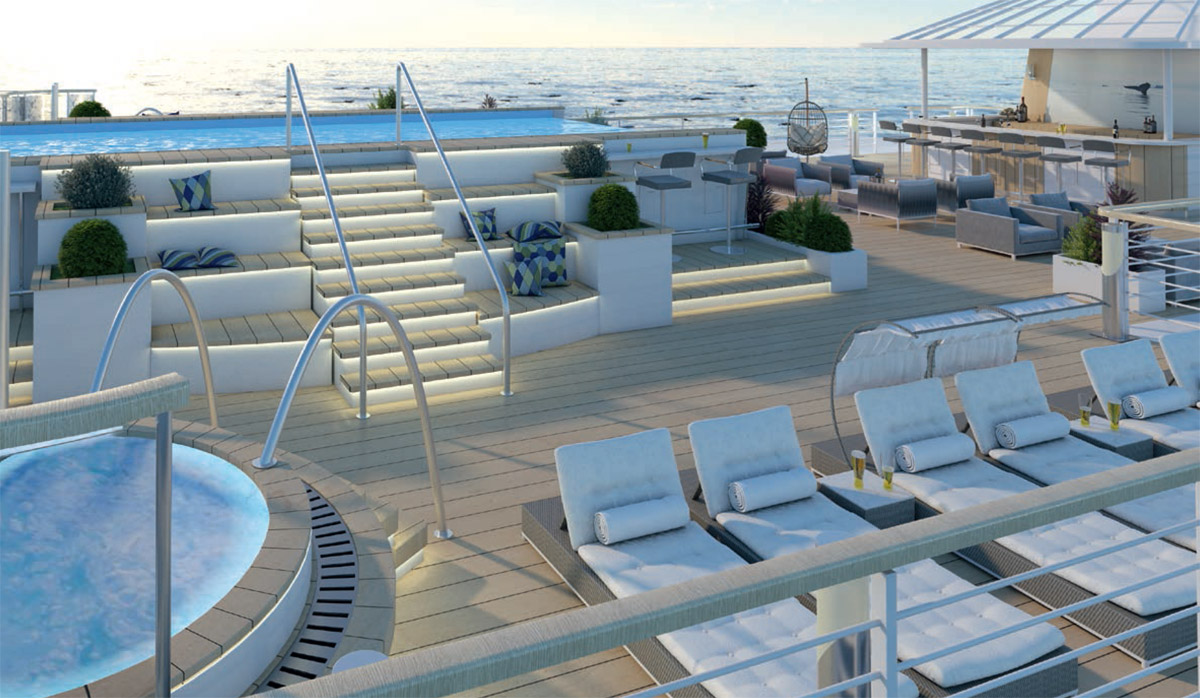 Swimming Pool & jacuzzies
After an unforgettable expedition during the day, our guests can relax in the heated swimming pool and two jacuzzies.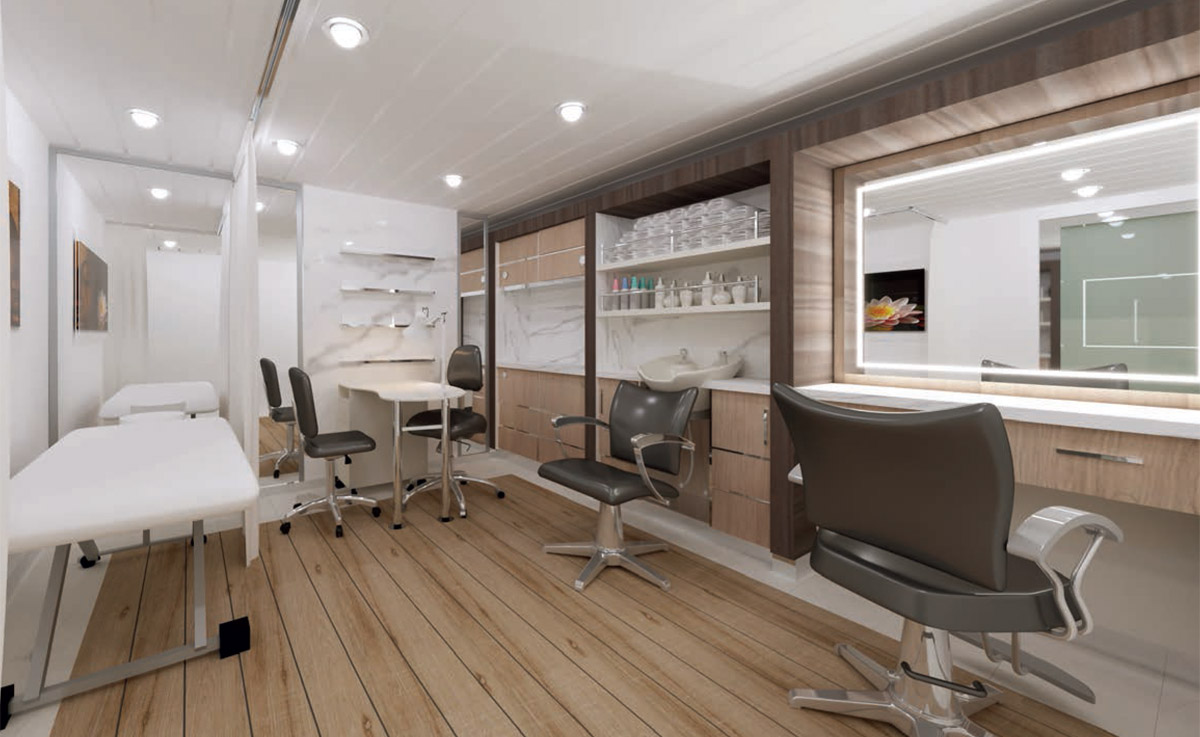 SPA Treatments
Guests can also an enjoy being pampered in the Polar Spa with some unique Albatros-only treatments, like a Midnight Sun or a Fire and Ice Massage.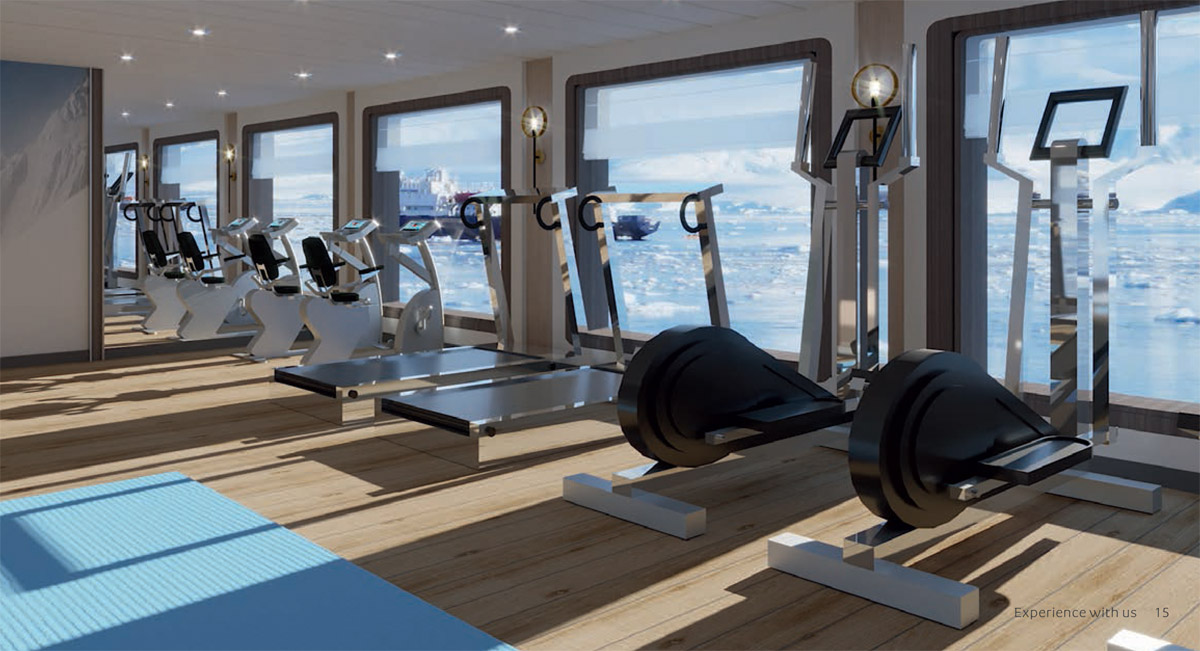 GYM
For the active explorer, we offer a fully equipped gym with some of the best views in the industry.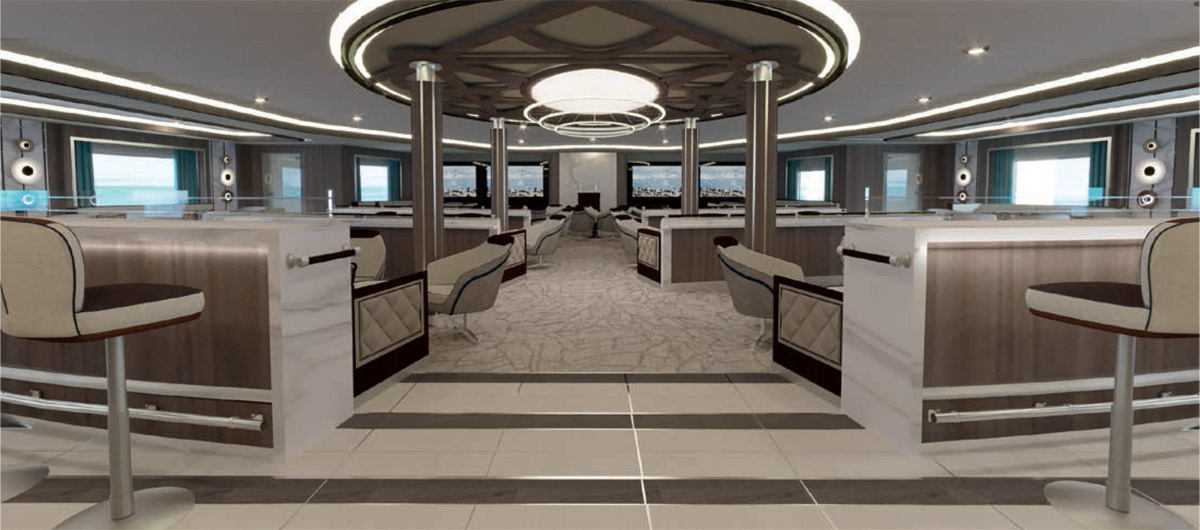 ALBATROS NORDIC LOUNGE
The Albatros Nordic Lounge brings warm Nordic hospitality to the Antarctic. Offering a large choice of drinks, including wine-tasting menus from Gerard Bertrand, this is the perfect place to relax after an unforgettable day and make new international friends… or like we say in Denmark: Hygge.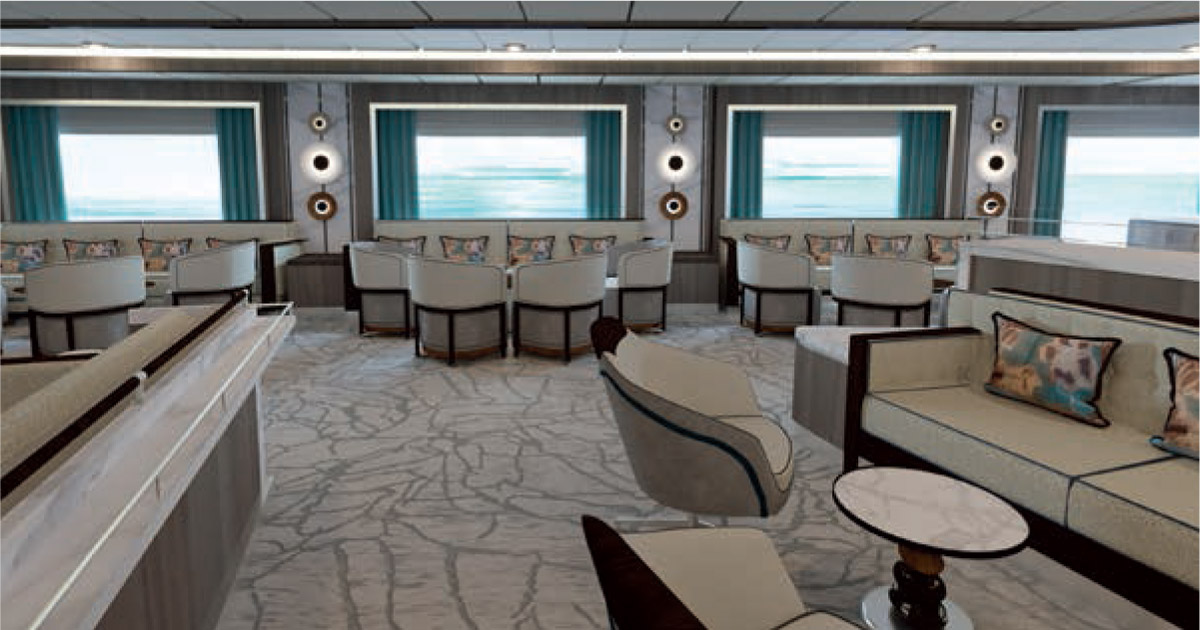 SHACKLETON LECTURE LOUNGE
What makes a good expedition? It is a combination of its landings and the experiences onboard the ship. At Albatros Expeditions we are honored to have an amalgam of experts in our expedition team, from climatologists and geologists to renown photographers, all eager to share their adventures and knowledge with our guests.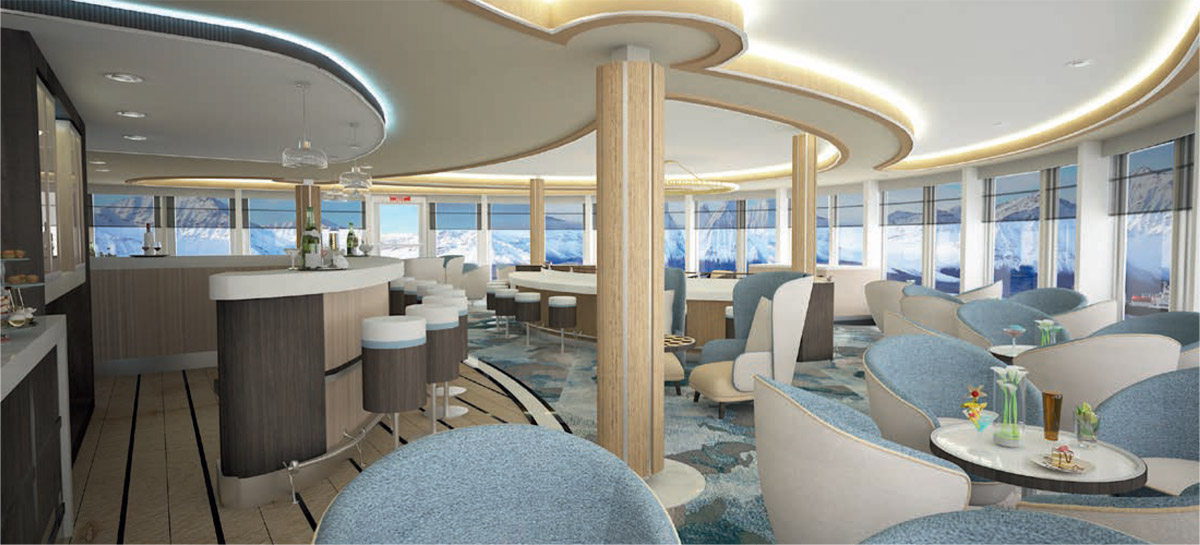 ALBATROS OBSERVATION LOUNGE
Celebrate the dream polar adventure, engage in conversation and relax while admiring the icy landscape of the polar regions. At our Nordic Observation Lounge we aim to create a fun and enjoyable atmosphere with varied cocktails and drinks, appetizers and smaller events.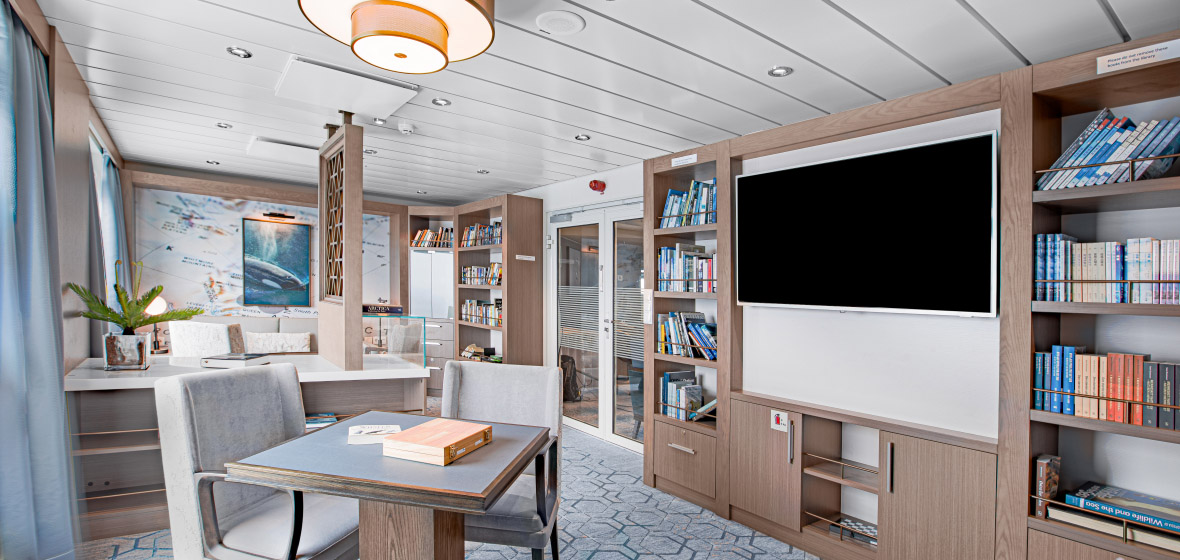 KNUD RASMUSSEN LIBRARY
Honoring the great explorers, the lecture room allows for an adventure within an adventure. Here you can find sagas, narratives and practical information on the polar regions, in various languages and subjects. From encyclopedias of the polar wildlife and fauna to narrations of the many challenges faced by the first expeditions, this is the perfect location for entertaining your brain while we sail.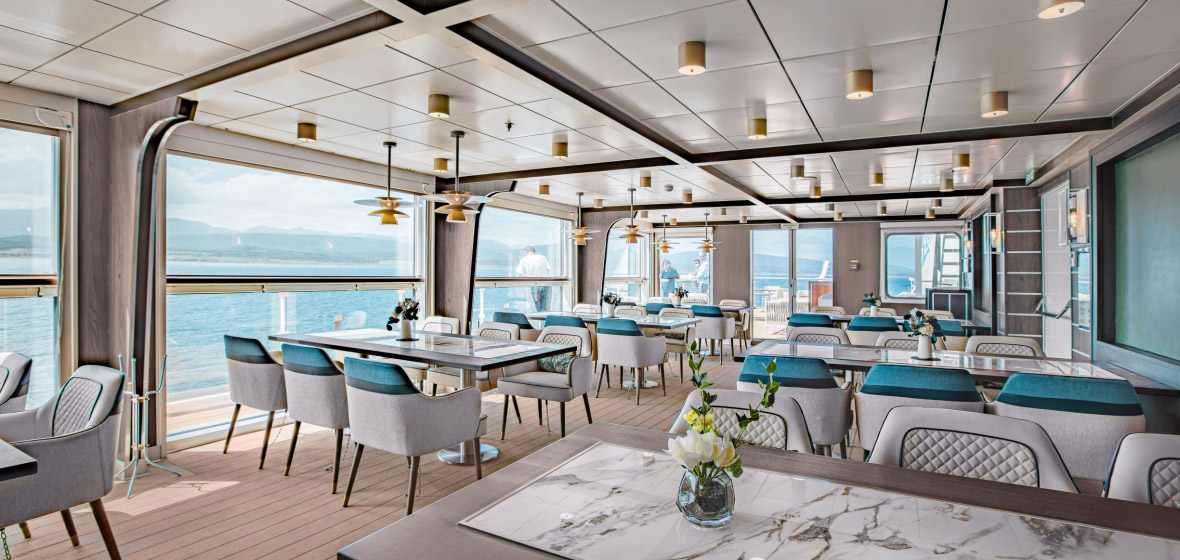 ANTARCTIC PANORAMA SPECIALTY RESTAURANT
Our specialty restaurant on deck 8 offers unforgettable views while enjoying a unique way of food preparation: lava stone cooking.
Restaurant & bar
Dinner always starts with delicious hot soups, cold cuts and crisp, fresh salads. Several choices of entrees are offered each evening, to accommodate different tastes and dietary requirements; always including a meat choice, fish choice and vegetarian choice.

After dinner, freshly prepared desserts, including ship-made ice cream or cakes are a great way to end a meal and satisfy any sweet tooth.

A selection of wines and beers is available to perfectly compliment your visit to our restaurant… and if you're interested in relaxing during your time off from activities and landings, delight onboard Ocean Atlantic by raising your glass to the experience of a lifetime!

Our bar is fully equipped with a variety of cocktails, beers, non-alcoholic beverages and more, to quench your thirst and reward the explorer in you.