LUXURIOUS CABINS & WELLNESS ONBOARD OCEAN VICTORY
Ocean Victory is the perfect addition to our fleet, due to its nautical technology and innovative low-energy usage. She's been designed and is currently undergoing additional preparations to satisfy our Nordic standards of service.
Our objective for safe and transformational experiences, distinguished lectures and programs, and superior-quality stays on our vessels, can now also manifest through more gentle sea crossings and a luxurious experience onboard.
Her X-BOW™ - Infinity class provides high stability in rough weather and high waves, and the spacious cabins allow for comfort and leisure between locations. Several restaurants, a wellness center and all the commodities to complete a dream voyage to the Antarctic region.
There are private balconies in approx. 90% of the staterooms, allowing you to behold the magnitude of the open ocean all around you.
Premium suite
Premium suite 45 m2 – PS
The largest of all the cabins on board the Ocean Victory is the Premium Suite. This 2-bedroom suite features a double bed (or twin beds), a sofa bed, table and chair, a balcony and spacious bathroom with bathtub. Located on deck. 4.
This category is available upon request.
Category A
Junior suite 42 m2
The 4 junior suites aboard Ocean Victory have a great view from their location high up on the ship on deck 7.
The suites feature a double bed or twin beds, sofa bed, seating area, a spacious bathroom with bathtub and private balcony. The cabin can accommodate up to 3 people. Located on the Amundsen deck 7.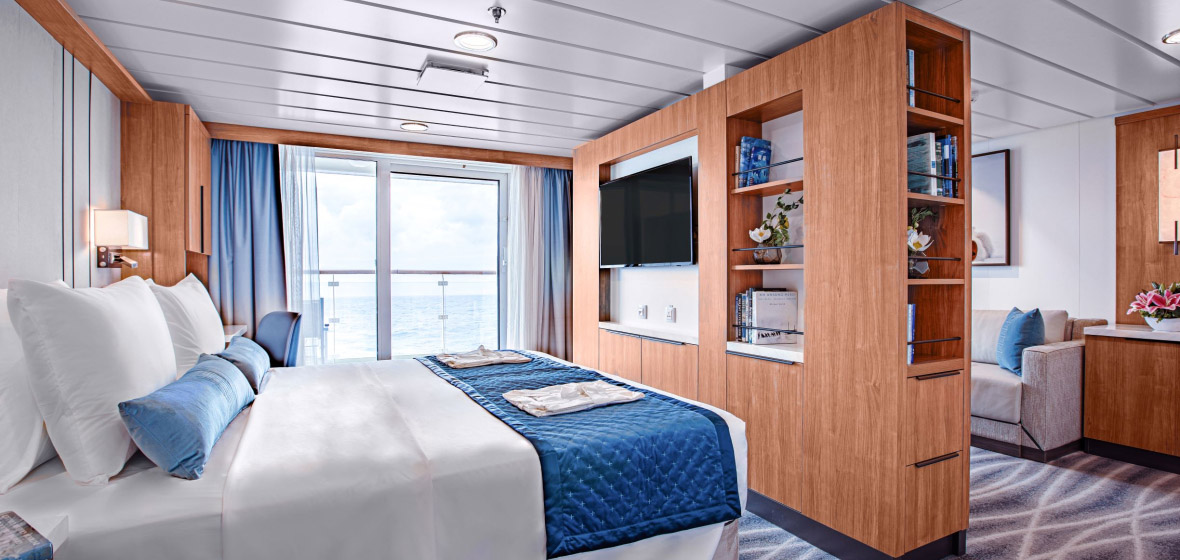 Category B1
Balcony Suite 35 m2
Ocean Victory has 2 Balcony Suites on board located on the Bering & James Cook deck respectively, located on deck 4. The suites feature double or twin beds and a seating area, bathroom with bath and private balcony. The balcony suites can host 2 people.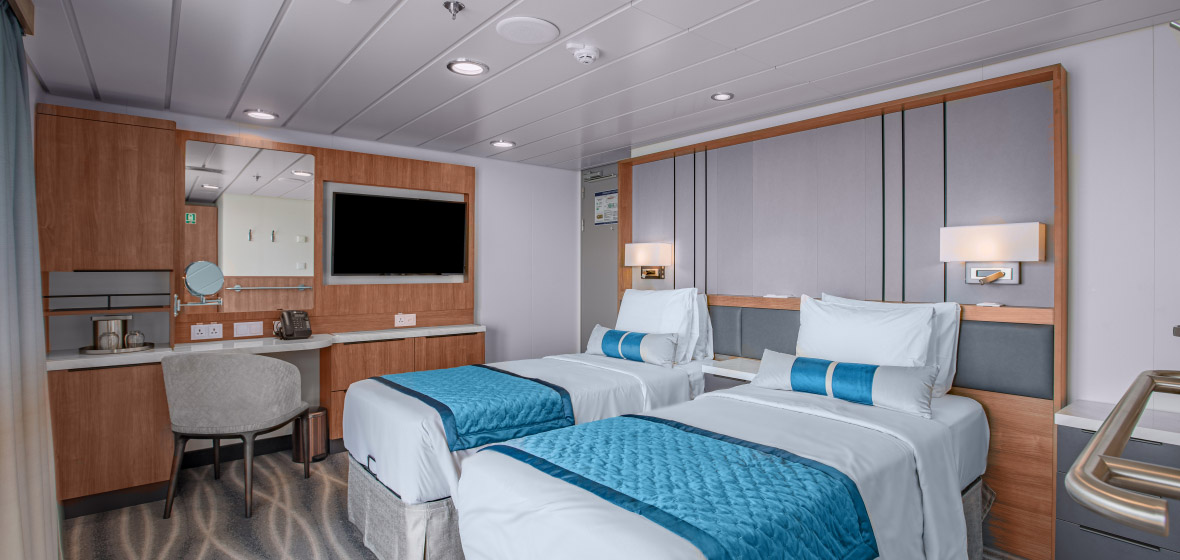 Category B2
Balcony Suite 28 m2
Ocean Victory has 4 Balcony Suites on board located on the Bering & James Cook deck respectively, located on deck 4 & 6. The suites feature double or twin beds and a seating area, bathroom with bath and private balcony. The balcony suites can host 2 people.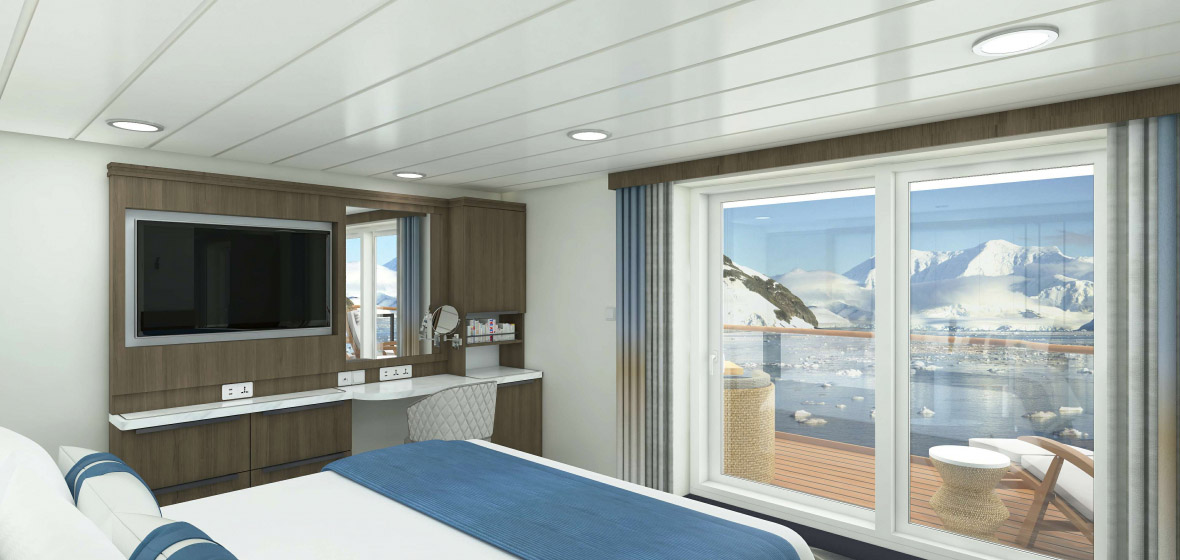 Category C
Balcony State Cabin 24 m2
The most abundant type of cabin on Ocean Victory, the Balcony State Cabins are located in decks 4 & 6. They have a private balcony, a double bed or two single beds, a bathroom with bathtub and a sofa that can be used as a bed for a child if traveling as a family. If you desire to book two cabins with connecting doors, this is also a possibility under this category.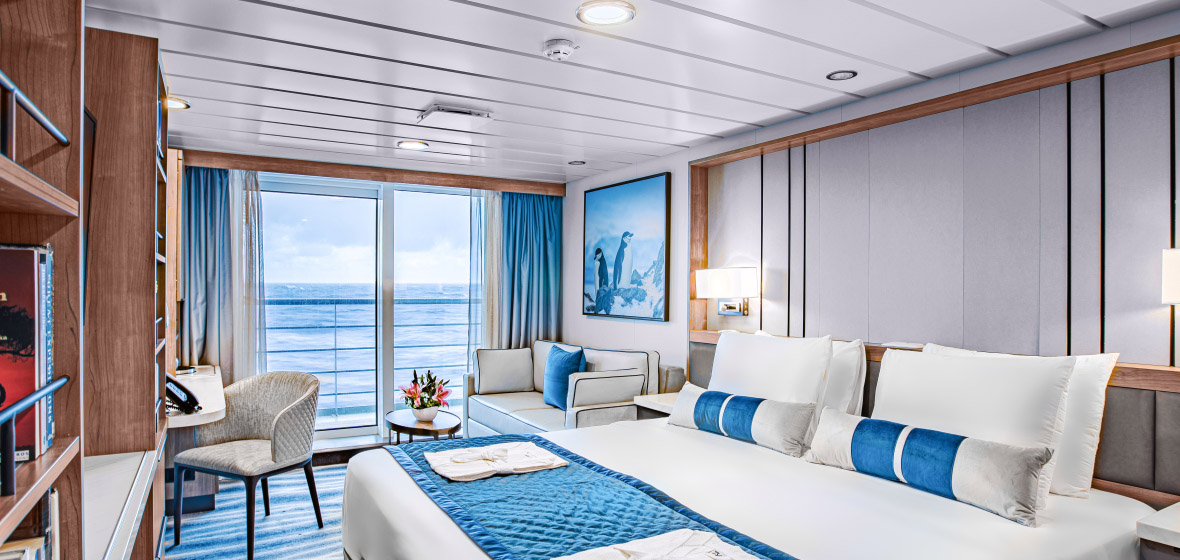 Category D
Albatros State Cabin (Porthole) 22 m2
The standard cabin on Ocean Victory is close to the Mudroom and has quick access to the zodiac platforms for disembarkation during landings. This is very convenient if you have more limited mobility and would like a short distance to the zodiacs. The cabins are perfect for those who wish a comfortable base during their stay onboard Ocean Victory. The standard cabins all have a double bed or 2 single beds and bathroom with bathtub. The cabins are located on deck 3 except for 1 which is located on deck 4.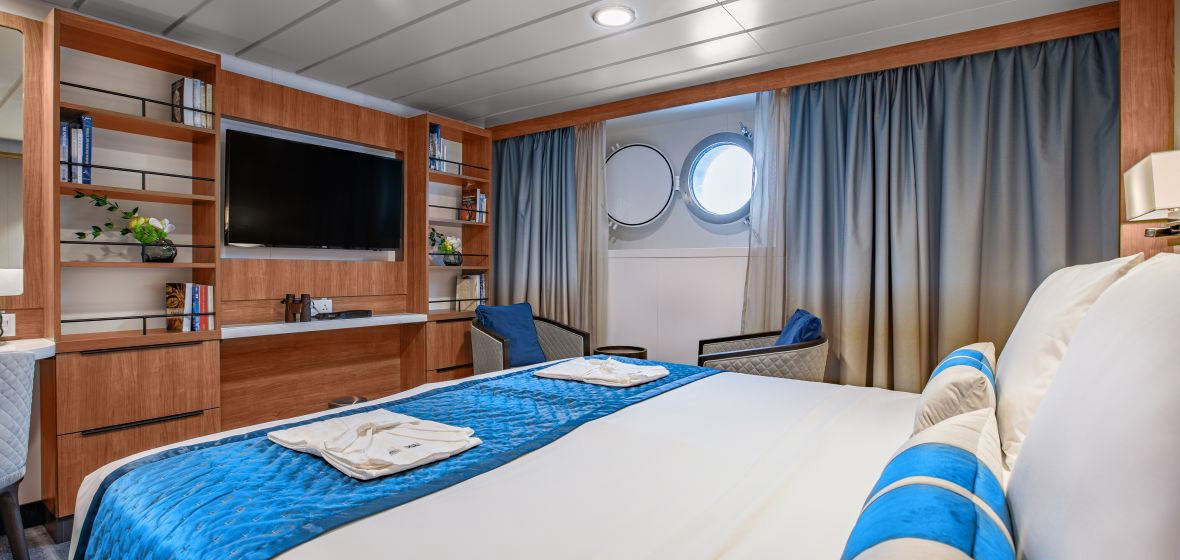 Category E
French Balcony Suite (Porthole) 16 m2
The French Balcony Suite is a standard cabin with a french balcony, a double bed, floor-to-ceiling windows and a bathroom. All French Balcony Suites are located on Deck 7.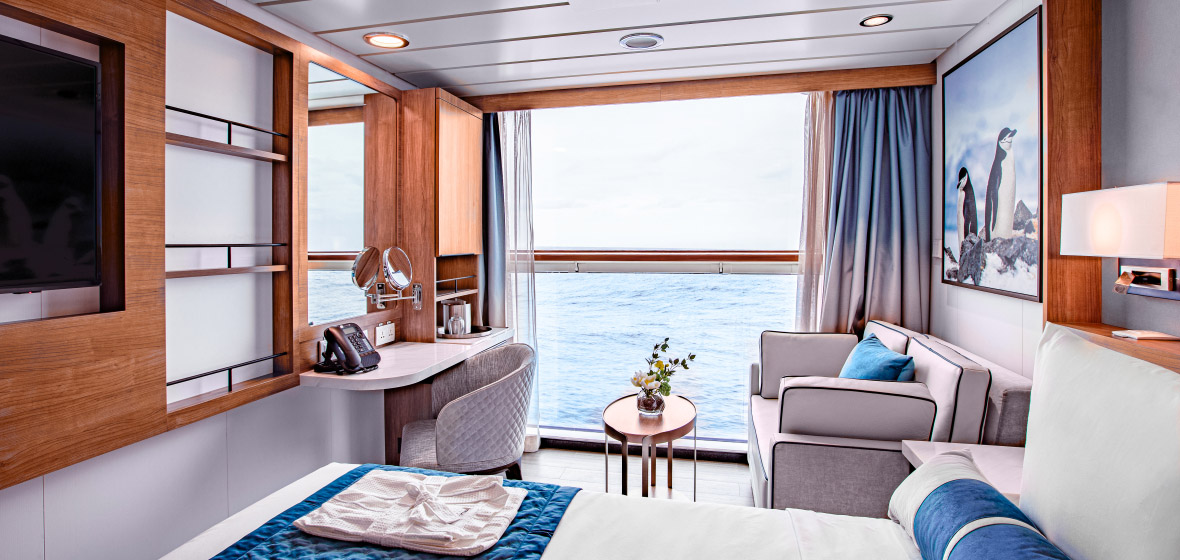 Category F
Triple Cabin (Porthole) 22 m2
There are four Triple cabins on board Ocean Victory featuring portholes, all with private en-suites. Located on Deck 3, they're close to the mudroom and loading platforms.
Triple cabins are normally with twin beds however a double bed can be accomodated.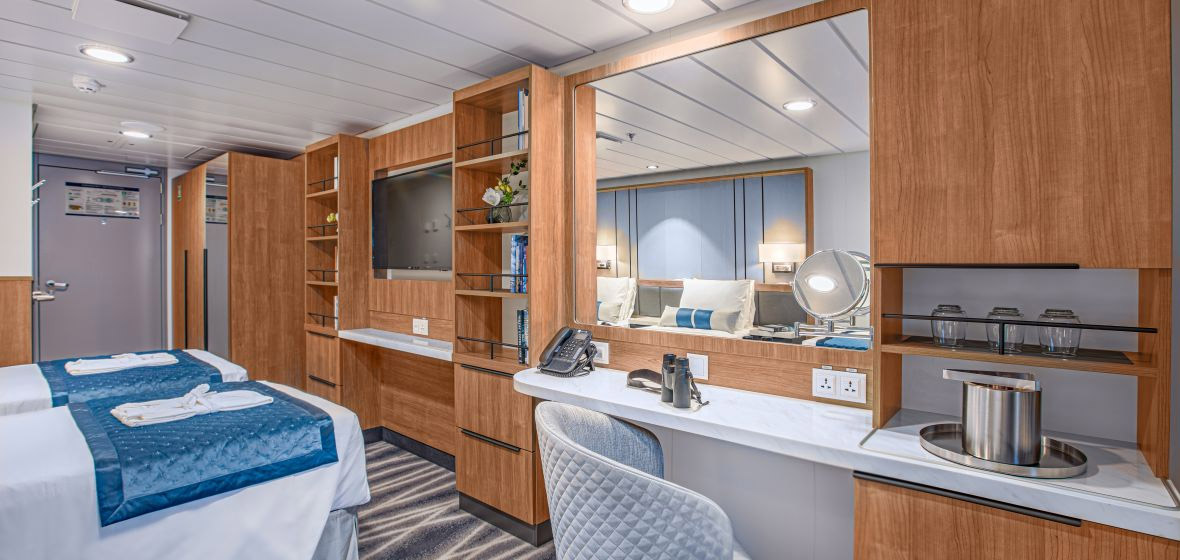 Category G
Single Cabin (Porthole) 18 m2
Standard single cabin onboard, located on deck 3. This is a conveniently located cabin close to the Mudroom which facilitates access to the zodiacs during embarkation and disembarkation to begin your adventures on the zodiacs.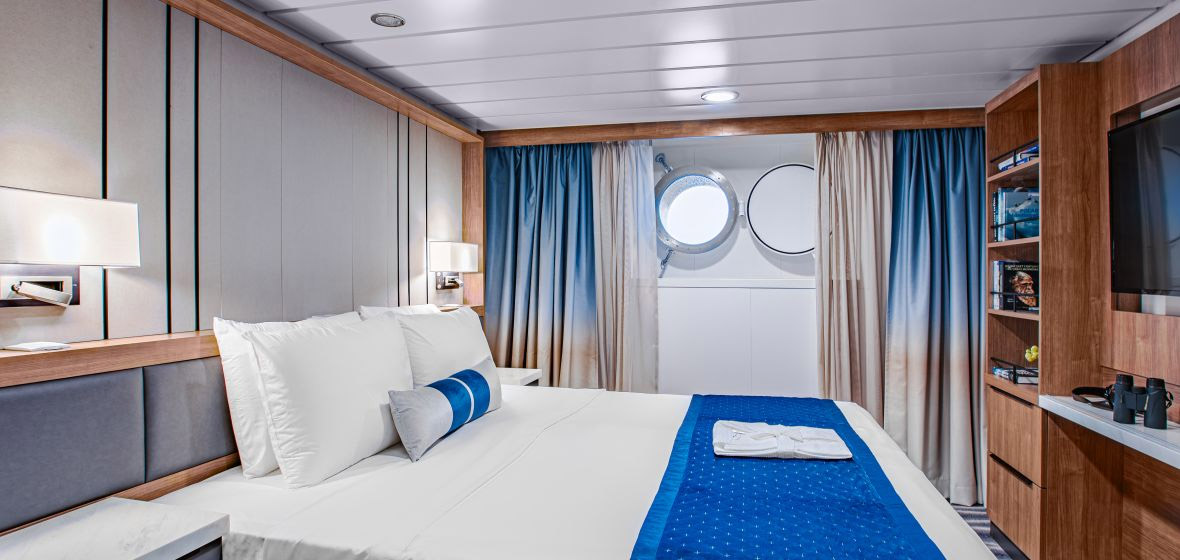 BRIDGE
Due to its important role as a control center for all nautical and technical processes, the ship's bridge is a vital, sensitive place. Therefore, the bridge may not be accessible to the public at all times. Conditions permitting, we will be happy to welcome you into the bridge for a visit. Guests must be accompanied by the expedition leader.
JACUZZIS AND SWIMMING POOL
The ship features two jacuzzis and an infinity swimming pool on the upper outside deck (deck 7), allowing spectacular views of the polar landscape outside in a relaxing environment.
Please note, that there is no lifeguard on duty, and the pool and jacuzzis will not be accessible if weather and wind conditions render them unsafe to use. The weather in polar regions is typically not suitable for infinity swimming pool use. It is to be expected that the use of these facilities will be on certain calm days and within certain hours, so if you plan on using them, please confer with the expedition staff onboard. The jacuzzis (hot tubs) can normally be used much more frequently and whilst the ship is moving.
STATEROOM SERVICE
Your stateroom is serviced daily. We provide a turn-down service. We provide meals to the room only for serious cases of guests being sick. Our suites will have VIP services.
STATEROOM LAYOUT/DIMENSIONS
Please note! The layout, illustration, and dimensions of the cabin categories shown are for illustration purposes only and may not be an exact representation of the staterooms. The actual cabin layouts and sizes may vary.
ZODIAC LANDINGS
One feature of our expedition cruises includes landings and excursions aboard Ocean Victory's fleet of 18 inflatable, motorized rubber "Zodiac" boats. The Zodiac brand has earned a well-deserved reputation as the sturdiest and safest small watercraft available. These boats have a low draft and great stability. Zodiacs are constructed for professional use and are outfitted with a top-quality outboard engine, yet their design minimally impacts the environment.
The Zodiacs are designed to provide unrestricted access to the world's last great frontier. Their versatility enables us to make landfall on remote shores, cruise along awe-inspiring coastlines, and share breathtakingly close encounters with whales, seals, penguins, seabirds, and more. We will come within arm's reach of icebergs and set foot on land discovered by pioneering explorers just over a century ago.
Your safety and comfort are our #1 priority, and your expedition leader will carefully plan for as many Zodiac excursions as possible, dependent upon the local weather and prevailing conditions. In each case, the expedition leader makes the final decision if the landing is possible or not. Safety regulations apply on landings. All guests receive mandatory instructions on the safety guidelines. Life jackets are mandatory to wear.
Please note, that we highly recommend the use of waterproof bags in order to protect your personal camera or binoculars, as both hands must be free of everything during boarding. Participation is fairly easy and comfortable for able-bodied guests but can be more challenging for those with physical handicaps.
CRUISE CARD / PAYMENTS / CREDIT CARDS
At the time of embarkation, you will receive your personal cruise card, which you should always have with you. This card is used on board as a payment instrument and identity card. All on-board purchases from the boutique, bar, internet, telephone, laundry, and the like are charged to your shipboard account.
To activate your personal onboard account, we accept Visa, MasterCard, and American Express credit cards. At the end of the voyage, your account will be settled by the payment methods mentioned above.
There is no currency exchange office onboard the vessel. Onboard payment will be completed by your cruise card. For stays ashore during the cruise, we recommend changing a minimal amount of the local currency in small bills, as most of the ports and airports have exchange offices. Alternatively, lots of shops and restaurants accept international credit cards. In bigger ports and cities, you have the possibility to withdraw cash from ATMs.
If you choose to leave a gratuity for the crew, the amount that you authorize will be charged to the shipboard account. Be sure to contact your credit card provider regarding the use of your credit cards overseas. Any questions regarding the bill can be addressed to the Reception.
GRATUITIES
Following international standards in the service industry, it is customary to leave a gratuity for the ship's crew at the end of the voyage. All gratuities will be divided among the crew. Typically, the recommended amount is approximately 13.50 USD per person per day. Gratuity is, of course, not required and any gratuity payments are voluntary.
If you choose to leave a gratuity for the crew, the amount that you authorize will be charged to the shipboard account.
DRESS CODE
The dress code on board is casual. Ties, jackets and evening dresses you may leave at home. It is rather more important to wear the right clothes in order to adapt to the different weather conditions. We recommend comfortable, breathable, waterproof, and windproof clothing. Also, you should have a pair of gloves, thermal underwear, and sturdy footwear in your luggage. For the captains and farewell cocktail, we recommend a smart casual dress style.
For specific packing recommendations, refer to the specific itinerary of interest.
ENVIRONMENT
As a tour operator for cruises in the Polar Regions, which are some of the world's most pristine environments, we extremely emphasize environmental awareness as well as sustainability. One of our top priorities is to protect the environment and minimize our CO2 emissions. All waste will remain onboard the vessel until we return to shore and it's possible to dispose of waste.
We ask that you show deep respect for the unique nature and act according to the motto: leave nothing but footprints, take nothing but memories.
INTERNET / PHONE
Keep in mind, that we will be cruising in a very remote region of the world. Where accessible, internet access is available for an extra charge. Mobile phone reception may be possible in select regions along our route. For further details please contact your mobile phone operator. Prices can be found in the information folder in your stateroom. Please ensure that your 'Data Roaming' function is switched off.
LANGUAGE ONBOARD
The official language aboard our vessels is English; however, our expedition leaders and crew are knowledgeable in a variety of languages. If there is a large group, who desires communication in their own language, we will make special arrangements to accommodate their needs.
PASSPORT / VISA
Each guest is responsible for ensuring that he/she meets the applicable passport and visa requirements for the duration of the trip. The passport is the only valid proof of identity for all trips with the Ocean Victory. Your passport must be valid for a minimum of 6 months after arriving home from your destination. Although some countries may require shorter periods, we implement this 6-month prerequisite to avoid situations where a country's validity requirements may be amended between the time of your booking and departure. The name in your passport must be identical to the name in all travel documentation. Costs incurred due to insufficient travel documents are the responsibility of the passenger.
Please note that passports will be collected for clearing formalities at the beginning of the voyage. The passports will be kept safely by the Purser during the whole voyage and will be handed out on the last day. We, therefore, recommend preparing copies of all documents before you start your travels.
RECEPTION
The daily office hours of the board reception are from 06:00 until 23:00.
ALBATROS OCEAN BOUTIQUE
The selection of items available for purchase varies by ship and may include a range of warm and practical clothing, as well as souvenirs, local arts, and postcards at reasonable prices. A small selection of soap, toothpaste, and other sundries are also sold.
AVAILABLE SEATING SPACE
Shackleton Lecture Room: 185
Nordic Lounge: 50
Beagle Restaurant: 166
Beagle Specialty Restaurant: 40
Observation Lounge: 67
Panorama Specialty Restaurant: 46
HEALTH / MEDICAL EMERGENCY
Each of our vessels has a small medical facility equipped with the necessary equipment and medicine to handle small emergencies. The infirmary is always staffed by a professionally licensed, English-speaking physician. Should a serious incident occur, the nearest hospital will be contacted. All guests must have personal travel/health insurance.
Although we do not have an official requirement regarding personal fitness, you should be able to move on board and ashore without the help of others.
Due to safety reasons, a cruise is only possible for pregnant women until the 24th week of pregnancy. The state of pregnancy must be presented by a medical certificate.
SAFETY / SECURITY ON BOARD
Our ships comply with all safety regulations and are ice-class vessels suitable for sailing in polar environments. Upon arrival on the vessel, there will be a mandatory passenger briefing and safety drill before departure. We will provide security information and practical details regarding life onboard and introduce key personnel. You will be informed where the safety equipment is located and how it is used. Each stateroom is equipped with lifejackets. Once onboard, please familiarize yourself with the ship's emergency rescue plan.
PHYSICAL DISABILITIES / WHEELCHAIR ACCESSIBILITY
The Ocean Victory has two cabins available to guests requiring wheelchair access. Guests needing any form of assistance, and those who are physically disabled must be accompanied by someone who will take full responsibility for any needed assistance during the cruise and in the event of an emergency.
Moreover, guests requiring a wheelchair must provide their own collapsible wheelchair. Please be aware that some ports of call, shore excursions, docks, gangways, and other requirements may preclude a wheelchair-bound guest from leaving the vessel; that decision will be made by the Expedition Leader or ship's captain and is binding.
SEASICKNESS / STABILISATORS
The ship is equipped with stabilizers in order to reduce the ship's roll. However, these expeditions are hosted in remote regions, and it is possible to periodically encounter changing environments and climate patterns, including rough seas and large swells. Seasickness medication work solely or in part to help cure nausea for most people. These medicines can cause sleepiness. If you are prone to motion sickness, consult with your doctor prior to departure to help ensure your comfort while travelling.
SMOKING
For safety reasons and to protect the health of our guests and employees, smoking is only allowed in designated areas on the outside decks. Smoking is not permitted inside the vessel, in the stateroom or near the Zodiacs. Please remember to respect our natural environments and dispose of cigarette butts in designated bins.
SPECIAL DIETARY REQUESTS
All meals on board the vessel is chef-prepared. If you have special dietary requirements (food allergies, intolerances, health conditions or religious preferences), please inform us as early as possible - ideally, no later than 2 weeks before departure. In order to ensure efficient service, please re-confirm your requirements with the crew upon boarding the ship.
ELECTRICAL OUTLETS
The ship has a 220v / 50 Hz cycle system. Please check your appliances before use. 110-volt appliances require an adapter prior to use aboard the ship.
The electrical outlets on board Ocean Victory are the so called 'F-type sockets', round 2-pin, 220-240 V, grounded, used in continental Europe and Russia. They take C, E, and F-type 2-pin plugs.
WATER
There are several water stations onboard Ocean Victory. Normally, water is not rationed, but we do advise our guests to pay attention to their water consumption.
LAUNDRY
If you wish to have some laundry done while aboard the ship, laundry service is available for an additional fee.
ONBOARD BRIEFINGS
The Expedition Leader will conduct regularly scheduled briefings to highlight key points in the itinerary, organize excursions and communicate important information.
CHILDREN
Due to safety precautions, children under 12 years of age will be taken into consideration on each landing. It is entirely at the Expedition Leader's discretion to permit children on excursions and shore landings.
ITINERARY & PROGRAM CHANGES
As this is an expedition cruise to the world's most remote region, we are at the mercy of Mother Nature. We have planned itineraries for each tour package, but to ensure to safety of our guests and crew, we may be forced to change the route.
RULES FOR LANDINGS & EXCURSIONS
When ashore, it is very important to show deep respect for the unique nature and act according to the motto: leave nothing but footprints, take nothing but memories. We also ask that you remain together with your group, as we are truly in the wild and must remain extra vigilant of the wildlife and weather conditions around us. Walking around independently is strictly prohibited. It is essential to abide by the strictly communicated safety rules.
Panorama Specialty Restaurant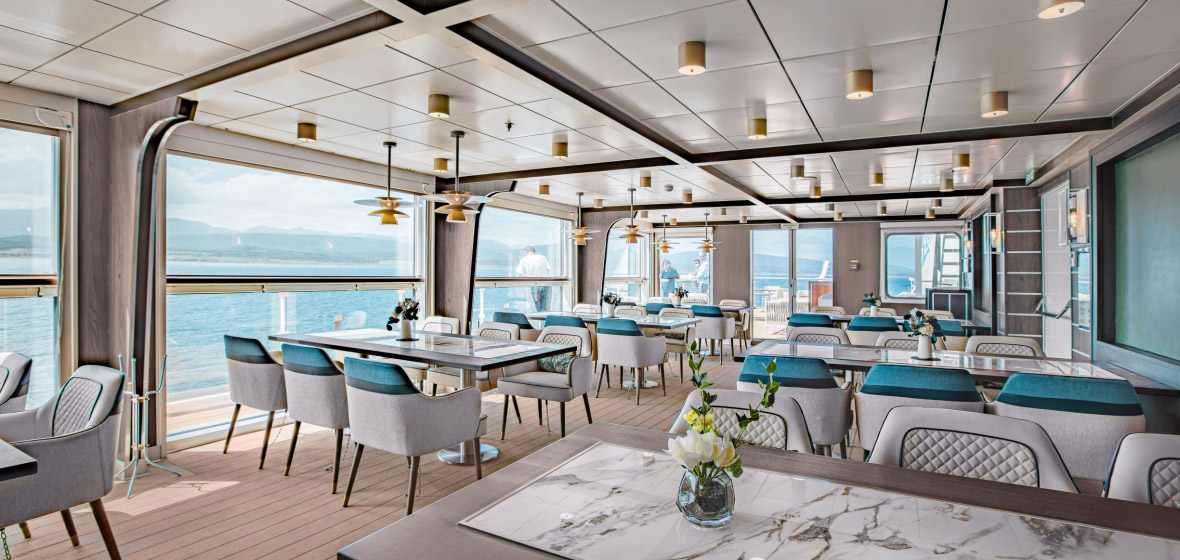 In our specialty restaurant, you have the possibility to take in all the wonderful views from the top deck.
We have a special menu such as hot stones and steaks.
Albatros BBQ Deck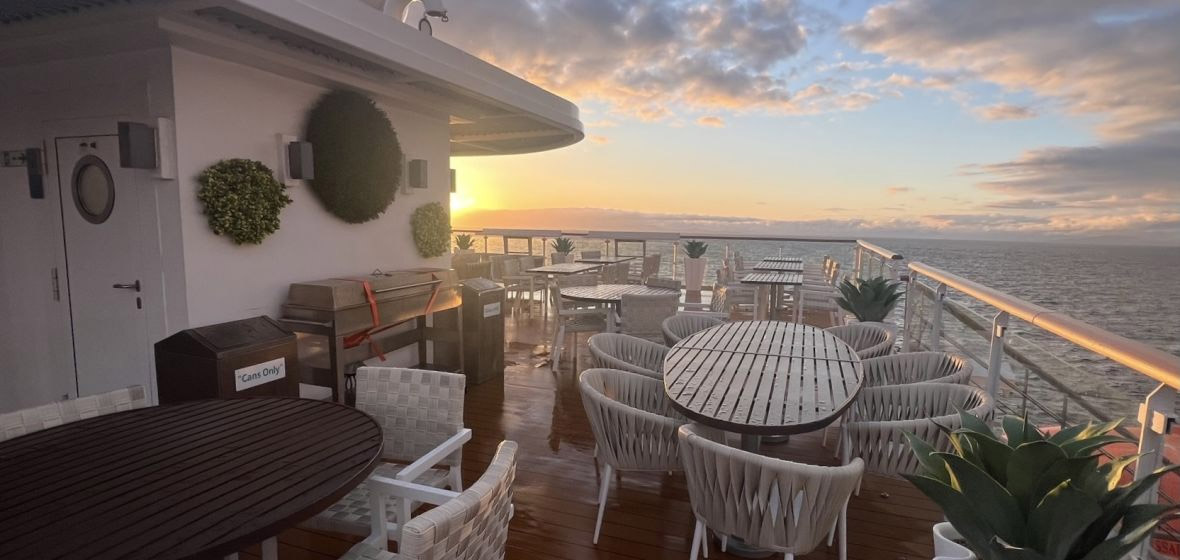 If the weather allows, we do not miss the chance to offer you a wonderful BBQ lunch on our BBQ Deck. A great way to enjoy the pristine surroundings, while enjoying a delicious grill meal.
Beagle Restaurant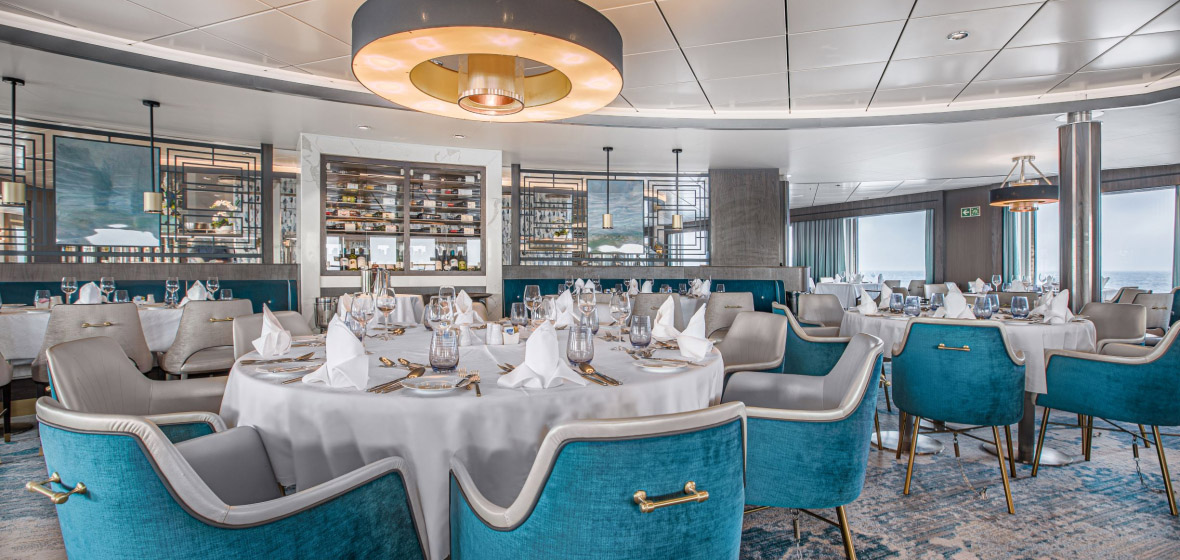 Dinner always starts with delicious hot soups, cold cuts, and crisp, fresh salads. Several choices of entrees are offered each evening, to accommodate different tastes and dietary requirements; always including a meat choice, fish choice, and vegetarian choice.
After dinner, freshly prepared desserts, including ship-made ice cream or cakes are a great way to end a meal and satisfy any sweet tooth.
A selection of wines and beers is available to perfectly compliment your visit to our restaurant… and if you're interested in relaxing during your time off from activities and landings, delight onboard Ocean Victory by raising your glass to the experience of a lifetime!
Our bar is fully equipped with a variety of cocktails, beers, non-alcoholic beverages, and more, to quench your thirst and reward the explorer in you.
Shackleton Lecture Lounge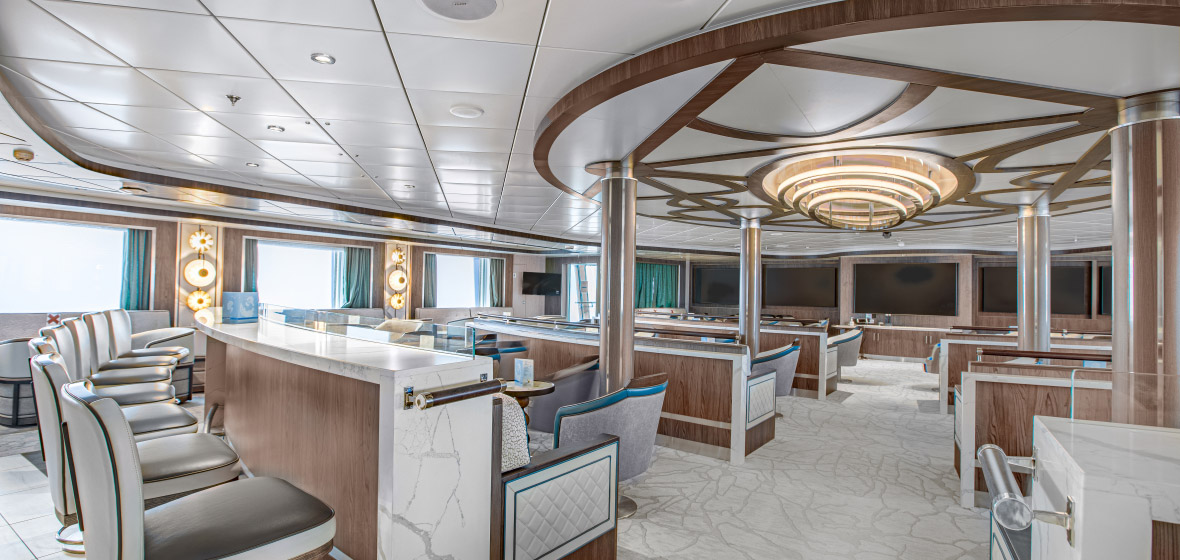 What makes a good expedition? It is a combination of its landings and the experiences onboard the ship. At Albatros Expeditions, we are honored to have an amalgam of experts in our expedition team, from climatologists and geologists to renowned photographers, all eager to share their adventures and knowledge with our guests.
Knud Rasmussen Library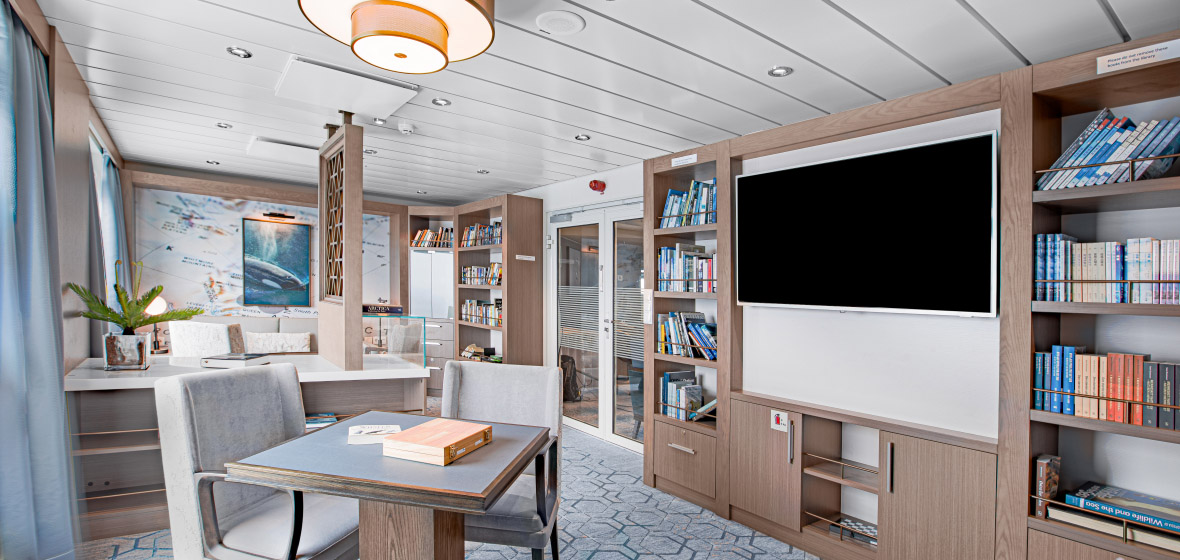 Honoring the great explorers, the lecture room allows for an adventure within an adventure. Here you can find sagas, narratives and practical information on the polar regions, in various languages and subjects. From encyclopedias of the polar wildlife and fauna to narrations of the many challenges faced by the first expeditions, this is the perfect location for entertaining your brain while we sail.
Albatros Observation Lounge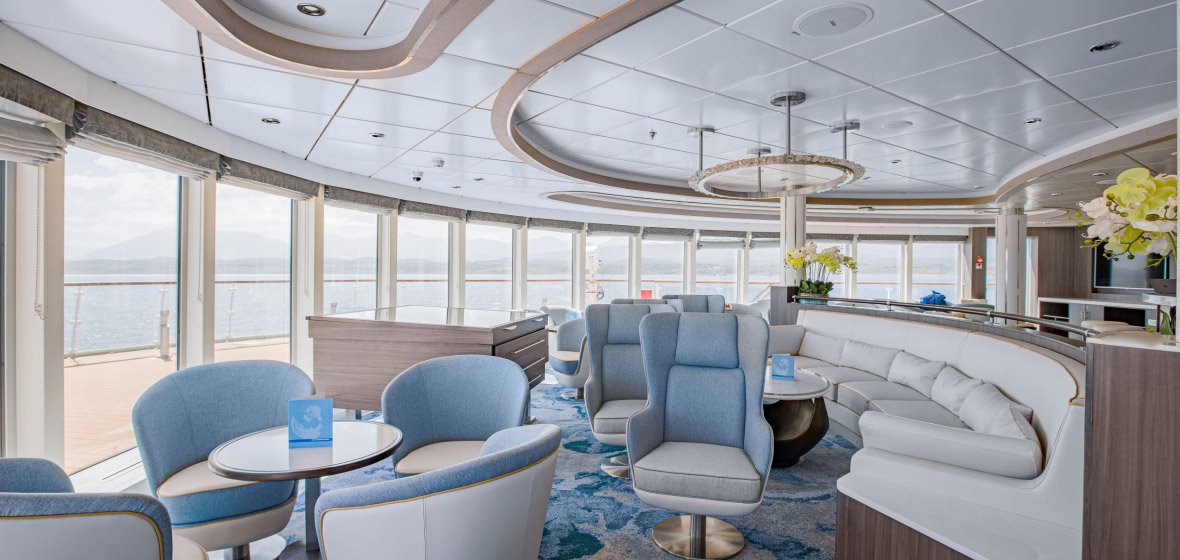 Celebrate your dream polar adventure, engage in conversation and relax while admiring the icy landscape of the polar regions. At our Observation Lounge, we aim to create a fun and enjoyable atmosphere with great views and relaxing seating areas.
The Polar Spa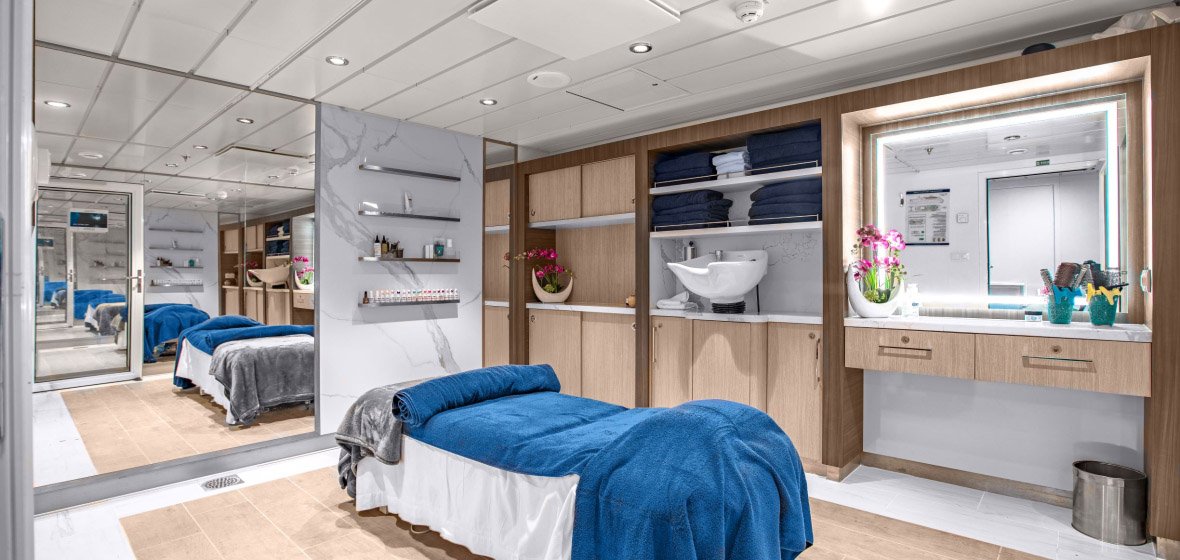 Complement your journey and step into the Polar Spa for an escape within your escape. Our destination-inspired treatments are unique, just like the places, we visit.
Albatros Fitness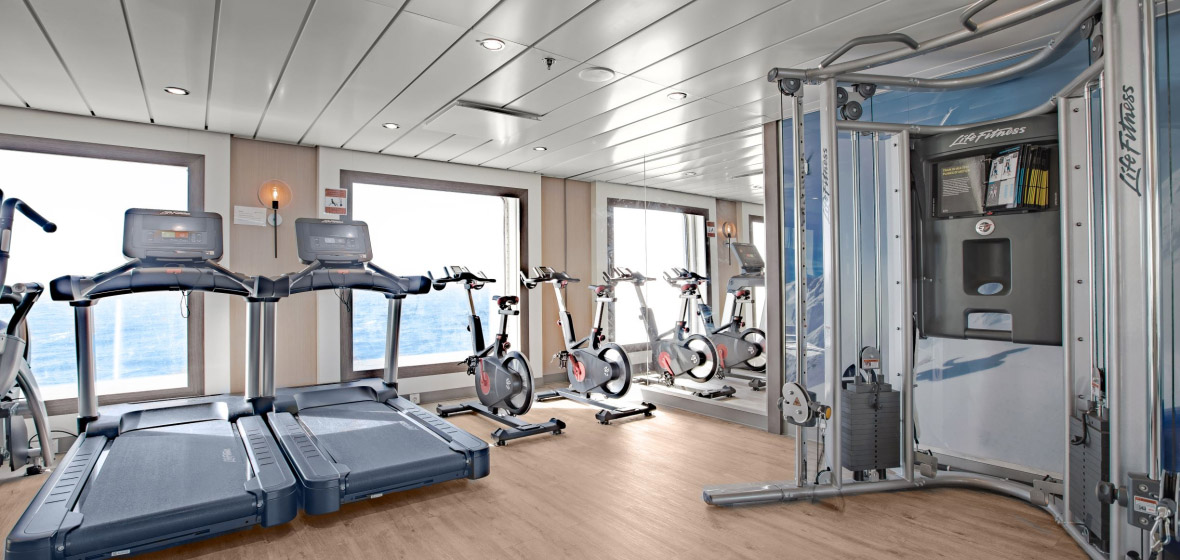 Even though you're on vacation, you won't want to skip this gym. In Albatros Fitness, you can stay in shape with weight machines and cardio equipment while connecting to the sea with floor-to-ceiling windows for a little motivation.
Albatros Nordic Bar Lounge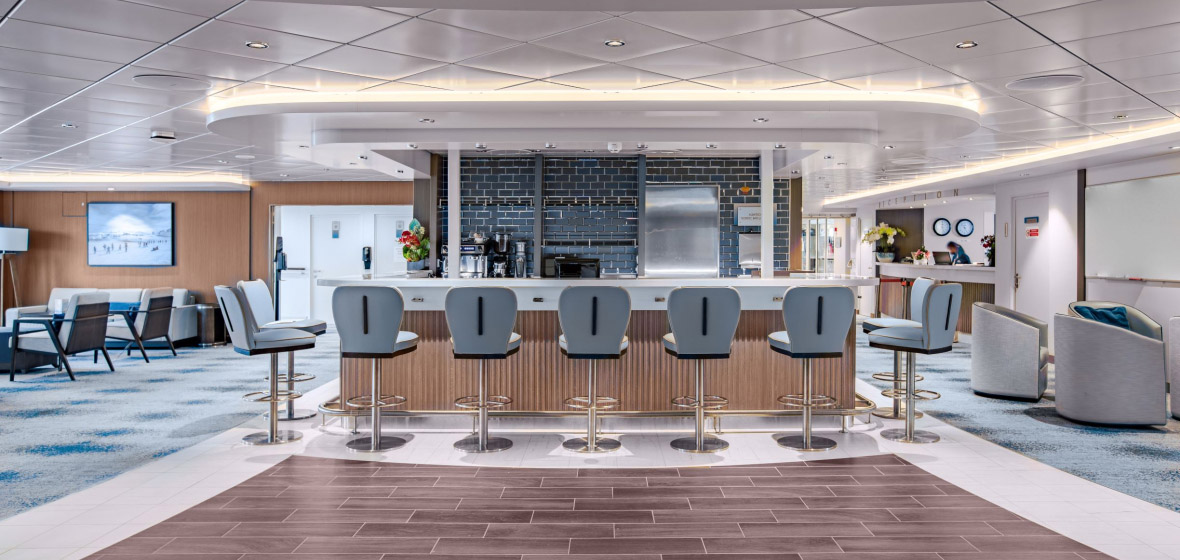 The Albatros Nordic Bar Lounge provides a bit of warm Nordic hospitality to the Antarctic. Offering a large choice of drinks, including wine tasting menus from Gerard Bertrand, this is the perfect place to relax after an unforgettable day and make new international friends.
Mudroom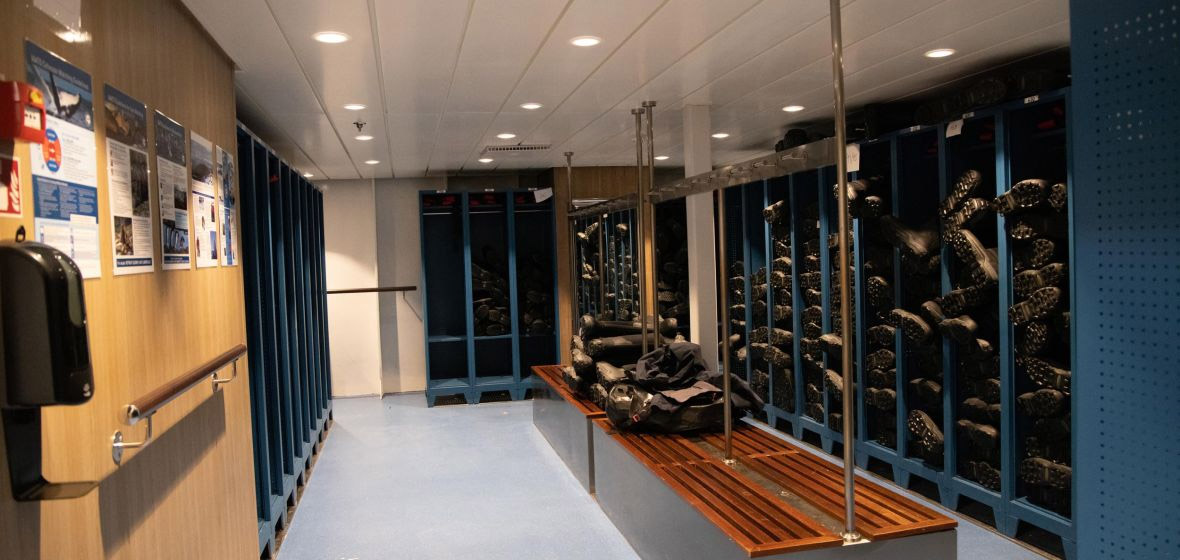 The mudroom is utilised for passenger embarkation and disembarkation via our Zodiac boats. It is the place for guests to store their expedition gear, jackets, and boots and get set for their shore-landings.
Midnight Sun Pool Deck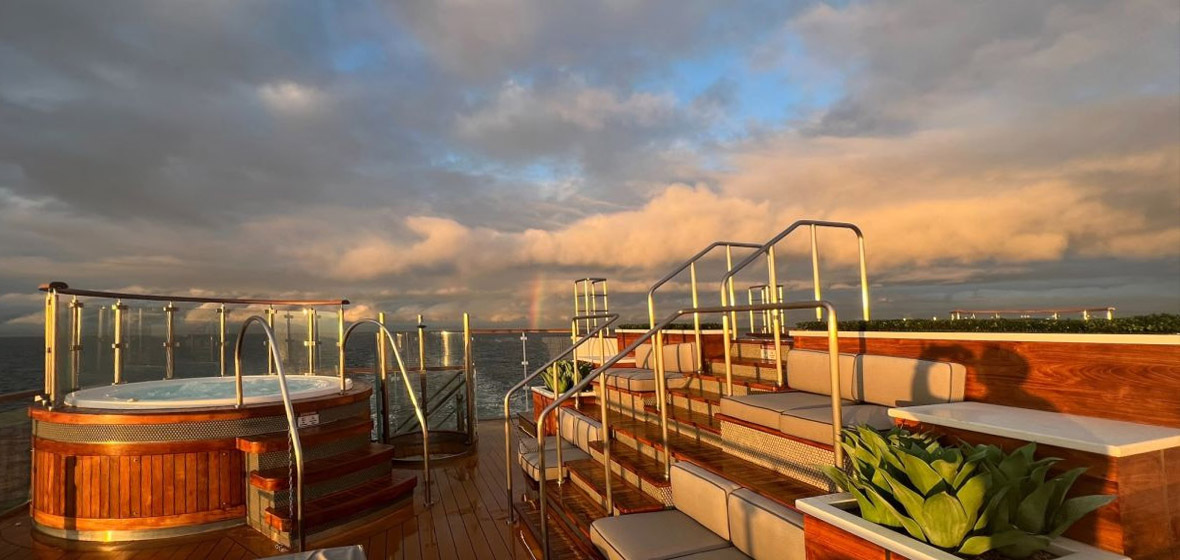 Ocean Victory features two jacuzzis an infinity swimming pool and an outside bar on the upper deck, allowing spectacular views of the polar landscape outside in a relaxing environment.