Disko Bay – The Heart of Greenland (Itinerary 2)
USD $10553
USD $8970
starting price
Our Greenland expedition cruise explores rare natural beauty and the fascinating Inuit culture. Meet the welcoming people who thrive in this Arctic landscape as we sail among giant icebergs to such natural wonders as Disko Bay in perpetual daylight under the Midnight Sun.
VOYAGE HIGHLIGHTS
Combine the exploration of pristine Greenland nature with fascinating Inuit

Begin and end your journey in Iceland – a great opportunity to explore further

Discover Greenland's immaculate beauty under the Midnight Sun

Sail into lovely Disko Bay
08 August 2021
Departs From
Reykjavik, Iceland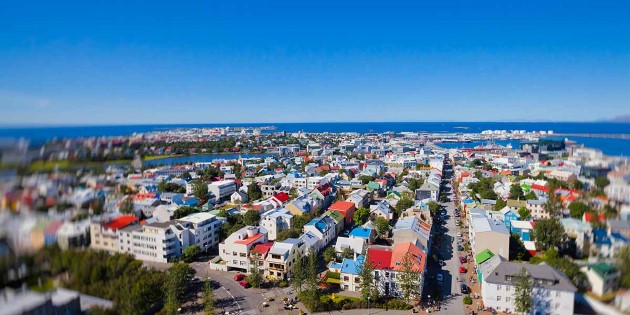 Day 1
Capital of Iceland
Docked – Full Day – Embarkation
Reykjavik is the world's northernmost capital city. Norse settlers named the place Reykjavik (meaning "Smoky Bay") after the columns of steam rising from hot springs in the area. The region offers fantastic natural beauty with geysers, mountains, glaciers and geothermal baths, well worth exploring before embarking on MS Fridtjof Nansen.
Day 2-3
Crossing the Denmark Strait
At Sea
We leave Iceland behind and sail across the Irminger Sea. This crossing was used by the Vikings to migrate from Iceland to Greenland some 1,000 years ago. Enjoy introductory lectures on local history and biology, and get to know our innovative expedition ship.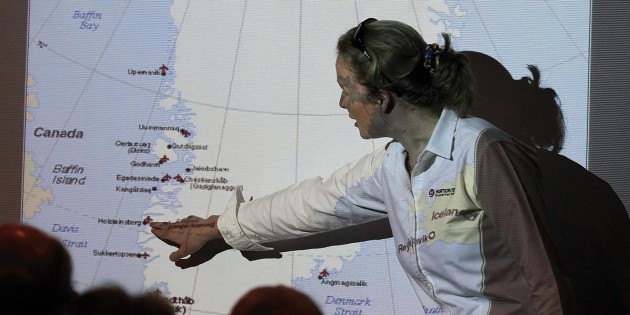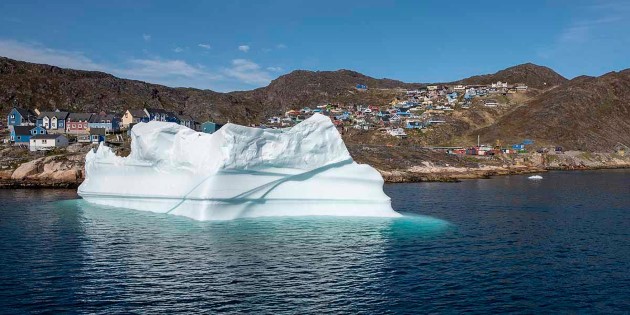 Day 4
Prins Christian Sund
Prince Christian Sound separates mainland Greenland from Sammisoq and the Cape Farewell Archipelago. If conditions allow, we will sail through this narrow channel and admire the spectacular scenery here. If the channel is blocked with ice, we will sail around Nunap Isua (Cape Farewell).
Day 5
Qaqortoq – Picture perfect town
Qaqortoq is considered to be one of the most beautiful towns in Greenland for its colorful houses and photogenic setting. It is the largest town in South Greenland, with some 3,000 inhabitants, but still easy to explore on foot. You can also join one of the optional excursions to get additional insight into local culture.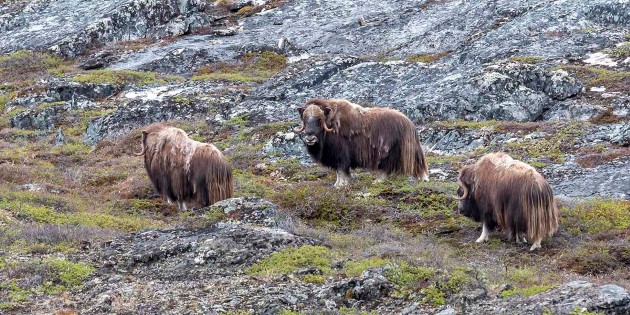 Day 6
Musk Oxen and a Norse Settlement
The abandoned town of Ivittuut is a stronghold for musk oxen. More than 1,000 years ago, Vikings settled the area, but left no written records behind. Archaeologists believe this was the last Norse settlement in Greenland to be established, and the first to be abandoned.
Day 7
Exploration Day
We discover the beautiful region of Kvanefjord near Paamiut by sailing deep into the fjord. Our experienced captain will take advantage of the conditions to identify landing sites for onshore walks, places to launch our kayaks, ideal communities to visit, and the best spots to spot wildlife.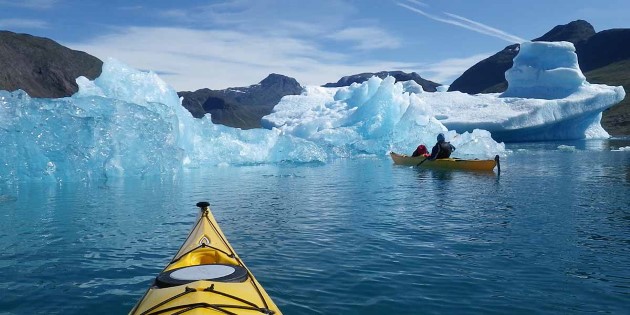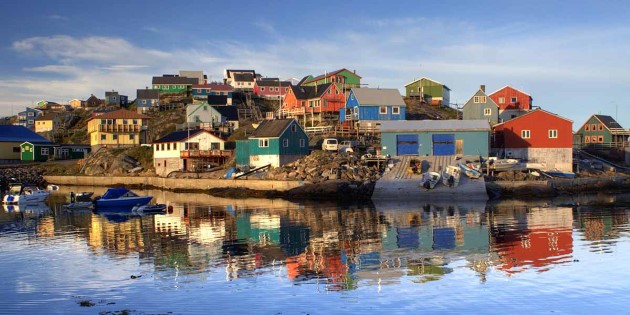 Day 8
The Vibrant Capital of Greenland
Nuuk lies at the mouth of one of the most spectacular fjord systems in the world. Greenland's capital city is where old and new meet, from historic buildings in "Kolonihavnen" to the modern "Center for Greenland Self Rule." There's also the National Museum – home to the famous Qilakitsoq mummies.
Day 9
The Venice of Greenland
Founded in 1755, Maniitsoq means "The uneven place," referring to the rocky hills and mountains shaping the town's layout. It is also known as the "Venice of Greenland" because it lies in an archipelago, intersected by natural canals.
The local museum introduces you to the town´s rich history and culture.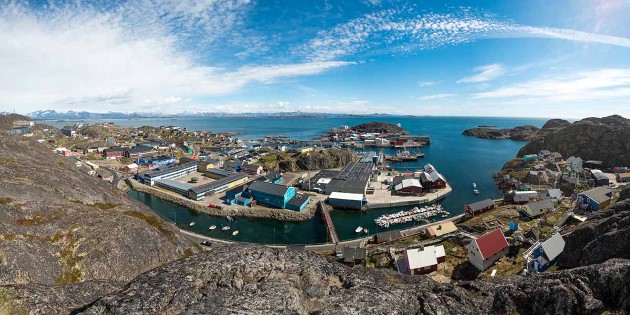 Day 10
`The People Living in a Place of Fox Dens.´
Explore the second largest town in Greenland, Sisimiut, located 25 miles north of the Arctic Circle. It is a modern, growing settlement with a history that dates back 4,500 years. For example, its name means `The People Living in a Place of Fox Dens.´ There are a variety of optional excursions to discover the area.
Day 11
Iceberg Central – UNESCO World Heritage Site
Ilulissat is set in the stunning scenery of Ilulissat Icefjord World Heritage site. At the fjord's mouth, you can see enormous icebergs that have run aground. These masses of ice originate from Jakobshavn Glacier, one of the fastest moving glaciers in the world. Join one of our many excursions here.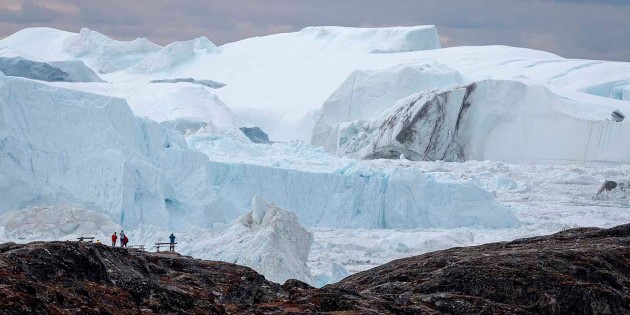 Day 12
Exploration Day Arctic Circle
This day is dedicated to an area or activity around the Arctic Circle, at the discretion of the captain and the Expedition Team, and depending on the local conditions at the time. We might explore a nearby settlement, go on a hike, or find the perfect site for a small explorer boat cruise. You can be sure that whatever we decide do, it will be a memorable part of your Arctic adventure.
Day 13
See the Ice Sheet Up Close
Returning to Kangerlussuaq, we take a trip to the Reindeer Glacier at the Greenland ice sheet, stretching 1,500 miles north and reaching heights of up to 10,500 feet above sea level. Enjoy a farewell barbecue meal aboard MS Fridtjof Nansen before disembarking and transferring to the airport for a late evening flight to Copenhagen.
Day 14
CAPITAL OF DENMARK
Your expedition ends in Copenhagen. you will head home, or alternatively, extend your trip to explore how this trendy and thriving capital mixes royal history and modern architecture with sustainable living and a world-class restaurant scene.
MS Fridtjof Nansen is the latest addition to Hurtigruten's fleet of custom-built ships – and represents the next generation of expedition ships. She will explore some of the most spectacular corners of the globe.
Featuring Hurtigruten's revolutionary, battery-powered, hybrid propulsion system, MS Fridtjof Nansen will be a near identical twin to her sister ship MS Roald Amundsen. Combining state-of-the-art technology and a premium on board experience with Hurtigruten's 125 years of experience and unparalleled destinations, the two Norwegian built ships introduce the next generation of adventure travel.
Ship Specifications
Year of construction 2020
Ship yard Kleven Yards, Norway
Passenger capacity 530
Gross tonnage 20 889 T
Length 140 m
Speed 15 knots
Installed power: 42 KW
Construction: Vard Langsten-Tomrefjord-Norway
Included in Your Expedition
Transfers
Transfer from the ship to the airport in Kangerlussuaq after the expedition cruise including an excursion to the ice sheet and a BBQ dinner
Flights
Flight in coach class from Kangerlussuaq to Copenhagen
Expedition Cruise
Expedition cruise in a cabin of your choice
Breakfast, lunch, and dinner including beverages (house beer and wine, sodas, and mineral water) in restaurants Aune and Fredheim
À la carte restaurant Lindstrøm included for suite guests
Complimentary tea and coffee
Complimentary Wi-Fi on board. Be aware that we sail in remote areas with limited connection. Streaming is not supported.
Complimentary reusable water bottle to use at water refill stations on board
English-speaking expedition team who organize and accompany activities on board and ashore
Range of included excursions
Onboard Activities
Experts on the expedition team deliver in-depth lectures on a variety of topics
Use of the ship's Science Center, which has an extensive library and advanced biological and geological microscopes
Citizen Science program allows guests to assist with current scientific research
Professional onboard photographer gives top tips and tricks for the best landscape and wildlife photos
Use of the ship's hot tubs, infinity pool, sauna with floor-to-ceiling window, outdoor and indoor gyms, and outdoor running track
Informal gatherings with the crew such as daily recaps and preparation for the day to come
Landing Activities
Escorted landings with small explorer boats
Loan of boots, trekking poles, and all equipment for activities
Complimentary wind and water-resistant expedition jacket
Expedition Photographers help with your camera settings before landings
NOTES:
All planned activities are subject to weather and ice conditions