Faroe Islands, Iceland, Spitsbergen – Island Hopping In and around the Arctic
USD $6821
USD $5798
starting price
Explore the spectacular natural world and charming towns of Iceland and Norway. The experience of being on deck as we cruise into the majestic Norwegian fjords is unforgettable. Stroll through quaint Arctic villages, learn Viking history, and watch for abundant wildlife on this remarkable expedition cruise.
Ship: MS Spitsbergen
Duration: 13 days
VOYAGE HIGHLIGHTS
Visit five wild and beautiful islands in and around the Arctic across four countries
Destinations include Scotland, the Faroe Islands, Iceland, Jan Mayen, and Svalbard
Sail in late spring to see lush green landscapes dotted with flowers in full bloom
Explore habitats with a range of wildlife and famous for bird and whale-watching
Day 1
Bergen
Before sailing from Bergen, you may wish to explore this cultural gateway to the fjords. Spend some time in one of the outdoor cafés and restaurants in the Bryggen district, a UNESCO-listed World Heritage Site. Other attractions include the Fløibanen Funicular and the Fish Market
Day 2
Lerwick – Scotland's Shetland Islands
Lerwick, which was built in the 17th century, is Scotland's northernmost town and home to a third of the Shetland Islands' population.
Visit local boutique shops along Commercial Street, wander along the waterfront with its sandstone buildings, or visit the museum to learn more about the town's Norse heritage.
Day 3
Faroe Islands – Elduvik
Located in the Funningsfjørður inlet in the Faroe Islands, the village of Elduvík lies by the shore at the end of a long, lush valley surrounded by stunning green mountains and with the river Stórá running through the middle of the village. Just 23 people inhabit the village, complete with a school, church, dock, pier, and colorful houses.
Day 4
At Sea
Enjoy a day at sea and participate in lectures with the Expedition team.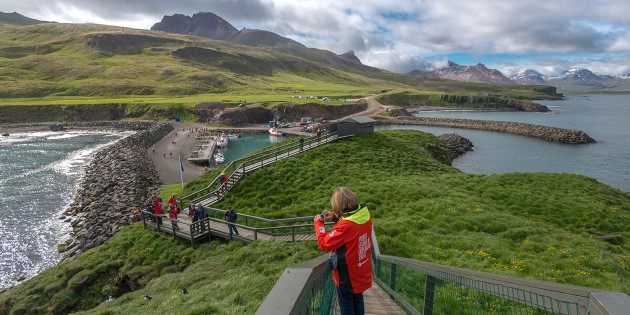 Day 5
Land of the Elves
Bakkagerdi is the main settlement in Borgarfjörður, an area known for its natural beauty and as "the land of the elves." Puffin colonies abound in the fjord, making this a popular place for birdwatching. Bakkagerdi is off the typical tourist track, and offers peace, quiet and lovely views.
Day 6
Husavik
Whales and Birds
Húsavík is renowned for its whale watching and has several interesting museums, including, of course, a whale museum. In the evening, we will sail past the scenic Laganes Peninsula.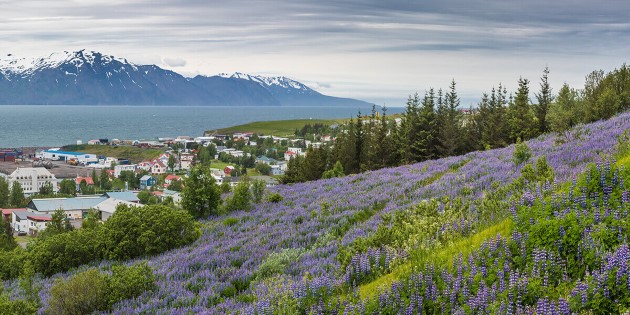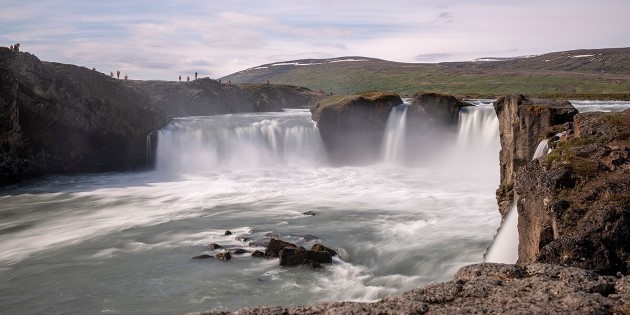 Day 7
Northern Center
Akureyri is a lively town, famous for its botanical gardens and pretty traffic lights. It is the most populous community outside Reykjavík, and the center of trade, culture and services in northern Iceland. Akureyri is close to many of Iceland's renowned natural treasures, like Mývatn lake and Goðafoss waterfall.
Day 8
At Sea
Days at sea are an opportunity to wind down and watch the waves, or enjoy a lecture or two from the Expedition Team.
Day 9
Jan Mayen
The Norwegian island of Jan Mayen has two main areas. The north is dominated by ice-capped Beerenberg, the northernmost active volcano on Earth. The south is flatter and unglaciated, and where 30 people live at a weather station. The island is a breeding site for large numbers of seabirds such as fulmars, auks, and guillemots.
Visits to Jan Mayen are extremely rare, and Hurtigruten is one of the few to attempt landings on this Arctic island.
Day 10
At sea
As we sail further north and the air cools, it's possible we will be joined by an escort of fulmars flying alongside at port-hole level! Sea days are a chance to sort out your photos, relax and recharge for the adventures ahead.
Day 11 – 12
Svalbard
Summertime in the Svalbard Archipelago is when polar bears trek along the coast's drifting ice on the hunt for seals. With a bit of luck, we hope to spot one or more of these top predators in the national park.
Depending on the movement and thickness of the sea ice, we might visit Kongsfjord´s mighty glaciers and catch sight of icebergs calving into the sea. We may also call on Ny-Ålesund, a former mining town now transformed into an international science center. Here, you'll find 16 permanent research stations from 10 countries dedicated to the study of glaciology, wildlife, and climate change.
Day 13
Longyearbyen / Oslo
Arrive in Longyearbyen after a remarkable voyage. Transfer to the airport for your flight back to Oslo or explore Svalbard's capital further with a Post-program. Nestled next to the Isfjord and surrounded by rugged mountains, Longyearbyen offers even more adventure here in the High Arctic.
MS Spitsbergen will take you on a voyage beyond the ordinary.
MS Spitsbergen is named after the crown jewel of Arctic Norway – the Svalbard archipelago and its biggest island, Spitsbergen. Hurtigruten has a long history of travelling to Spitsbergen, beginning in 1896 with the `Sports Route´. MS Spitsbergen cruises along the Norwegian coast from September to May, and becomes part of our global Explorer sailings during the rest of the year.
After complete reconstruction, MS Spitsbergen joined the Hurtigruten fleet in 2016. The ship features high technical standards as well as comfortable, modern public areas and cabins. The vessel´s fresh Scandinavian design reflects a colour palette derived from the sea. She is modern and environmentally progressive, and we plan further improvements that will reduce emissions and fuel consumption even more. The new ship's maneuverability and optimal size make her quite suitable for exploring polar waters.
Ship Specifications
Year of construction 2009
Year of refurbishment 2016
Ship yard Estaleiro Navais de Viana do Castelo (POR)
Passenger capacity 335
Beds 243
Car capacity 0
Beam 18
Speed 18 knots
Included in Your Expedition
Transfers
Transfer from the ship to the airport in Longyearbyen after the expedition cruise
Flights
Flights in coach class from Longyearbyen to Oslo after the expedition cruise
Expedition Cruise
Expedition cruise in a cabin of your choice
Breakfast, lunch, and dinner including beverages (house beer and wine, sodas, and mineral water) in restaurant Aune
Complimentary tea and coffee
Complimentary Wi-Fi on board. Be aware that we sail in remote areas with very limited connection. Streaming is not supported.
Complimentary reusable water bottle to use at water refill stations on board
English-speaking Expedition Team who organize and accompany activities on board and ashore
Range of included excursions
Onboard Activities
Experts on the Expedition Team deliver in-depth lectures on a variety of topics
Use of the ship's Science Center, which has an extensive library and advanced biological and geological microscopes
Citizen Science program allows guests to assist with current scientific research
Professional onboard photographer gives top tips and tricks for the best landscape and wildlife photos
Use of the ship's hot tubs, sauna and indoor gym
Informal gatherings with the crew such as daily recaps and preparation for the day to come
Landing Activities
Escorted landings with small explorer boats
Loan of boots, trekking poles, and all equipment for activities
Complimentary wind- and water-resistant expedition jacket
Expedition Photographers help with your camera settings before landings
NOTES:
All planned activities are subject to weather and ice conditions