Greenland and the Scoresbysund Fjord system (Itinerary 1)
USD $10454
USD $8886
starting price
VOYAGE HIGHLIGHTS
Join an epic expedition cruise from Iceland to eastern Greenland
Explore the rarely visited eastern coastline of Greenland and meet the locals who live here
Enjoy stunning scenery in the largest national park and the largest fjord in the world
Spot a range of Arctic wildlife, including whales and polar bears
08 August 2021
Departs From
Reykjavik, Iceland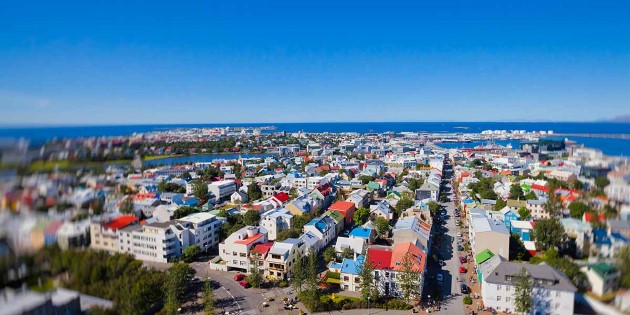 Day 1
Capital of Iceland
Docked – Full Day – Embarkation
Reykjavik is the world's northernmost capital city. Norse settlers named the place Reykjavik (meaning "Smoky Bay") after the columns of steam rising from hot springs in the area. The region offers fantastic natural beauty with geysers, mountains, glaciers and geothermal baths, well worth exploring before embarking on MS Fridtjof Nansen.
Day 2
Crossing the Denmark Strait
At Sea
We leave Iceland behind and sail across the Irminger Sea. This crossing was used by the Vikings to migrate from Iceland to Greenland some 1,000 years ago. Enjoy introductory lectures on local history and biology, and get to know our innovative expedition ship.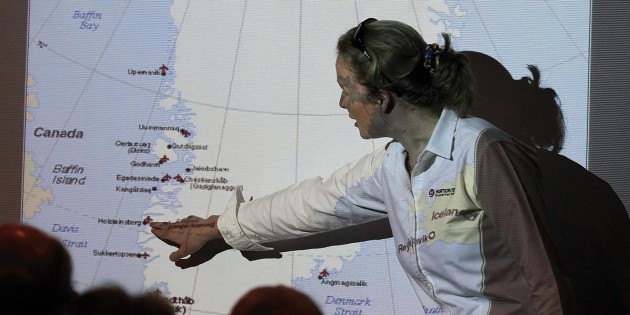 Days 3-7
Largest Fjord system on Earth
Scoresbysund Fjord
On our way North, we will attempt landings at the entrance to the Scoresbysund fjord. This is the world's largest fjord system, which extends 218 miles inland and 1,970 feet deep. It offers spectacular scenery: White and blue icebergs float in the still waters of the fjord, surrounded by bare green and brown mountains.
The fjord's steep basalt mountains, some reaching up to 6,600 feet, not only create a stunning backdrop, but also provide shelter from the winds. Add this to the availability of open water in the wide fjord mouth, and areas of water that do not freeze even in winter, and it explains why the fjord has become a haven for an unusual abundance of Greenlandic wildlife.
You might be able to spot musk oxem, Arctic foxes, mountain hares, and even reindeer. Little auks, Atlantic puffins, fulmars, snowy owls, the Greenlandic gyrfalcon, and great black-backed gulls are just some of the bird species that can be admired in the skies above. Various species of seal dominate the shores and the clear waters below. Keep on the look-out also for Atlantic walrus, narwhal, beluga whales, and the rare bowhead whale.
Days 8-10
Largest National Park in the World
Begin your exploration of the largest national park in the world, which is also the least visited national park in the world. Only a small number of expeditions are permitted to visit the park over its very short summer season. Thanks to our expertise and experience here, we are always one of them.
Apart from trapper huts, some science research stations, and two military outposts, there are no traces of human life here. The only others we might be lucky to meet are the Sirius Patrol park rangers who supervise the area on dog-sleds.
Once inside the park, there are large fjords, giant icebergs, alpine landscapes, hanging glaciers, and vertical granite cliffs reaching as far as the eye can see. The likes of hares, musk oxen and Arctic foxes roam the coasts and tundra in the summertime. They are usually spread out across this enormous region, making it a real highlight if we do manage to spot one or more of them.
The captain and Expedition Leader will assess the ice conditions and choose the best locations for landings accordingly. You can also participate in exciting optional activities such as kayaking and long guided hikes.
Day 11
Isolated Settlement
Ittoqqortoormiit
 Encased by sea ice for nine months of the year, Ittoqqortoormiit is the most remote inhabited community in the western hemisphere. Ittoqqortoormiit has a population of less than 500  and they'll be proud to show you around the community, including a museum, church and even a photo exhibition.
Day 12
HEADING BACK TO ICELAND
Irminger Sea
After exploring exhilarating Greenland, we set course back to Iceland. Spend the day at sea recapping your experiences, having fun in the Science Center or just relaxing on deck, looking at the sea birds which follow our ship or maybe even spotting whales.
Day 13
THE STYLISH CAPITAL OF ICELAND
Docked – Disembarkation
You arrive in the Icelandic capital early in the morning. If you want to explore more of the city and country, add one of our exciting pre- or post-cruise Land Adventures to your trip.
The original Fram was the most famous explorer ship of its time, and the achievements of her expeditions are unparalleled. MS Fram honors the heritage of the original Fram, using the most advanced technology and making her exceptionally well suited for expedition voyages in polar regions.
Many boast of their "ultimate" expedition ships. But none, save the MS Fram, contains two critical features which deliver adventure in a more safe and comfortable way. MS Fram is a purpose-build expedition ship built especially for comfortable Explorer voyages, with emphasis on relaxation and discovery.
MS Fram was built in 2007 with one mission in mind – to bring her guests closer to nature, wildlife and unforgettable experiences. As well as offering numerous lounges in which to relax, our more active guests can use our well-equipped gym. Meanwhile, on deck, our Jacuzzis guarantee you surreal memories when passing the towering icebergs of Antarctica or Greenland. To keep up with what's happening on the MS Fram right now and the amazing experiences our passengers are having, stay up to date with the MS Fram blog.
MS Fram is designed for sailing in polar waters, holds the highest safety standards and is the perfect size for optimum nautical manoeuverability and guests' comfort. With space for only 276 guests, you are sure to get to know many of your fellow travellers. You will share stunning sights and memories of a lifetime long after returning home.
Ship Specifications
Year of construction 2007
Year of refurbishment 2020
Ship yard Fincanteiri, Italy
Passenger capacity 318
Beds 276
Gross tonnage 11647
Length 114
Beam 20.2
Speed 13
Included in Your Expedition
Expedition Cruise
Expedition cruise in a cabin of your choice
Breakfast, lunch and dinner including beverages (house beer and wine, sodas, and mineral water) in restaurant Aune
À la carte restaurant Lindstrøm included for suite guests
Complimentary tea and coffee
Complimentary Wi-Fi on board. Be aware that we sail in remote areas with limited connection. Streaming is not supported.
Complimentary reusable water bottle to use at water refill stations on board
English-speaking expedition team who organize and accompany activities on board and ashore
Range of included excursions
Onboard Activities
Experts on the expedition team deliver in-depth lectures on a variety of topics
Use of the ship's Science Center which has an extensive library and advanced biological and geological microscopes
Citizen Science program allows guests to assist with current scientific research
Professional onboard photographer gives top tips and tricks for the best landscape and wildlife photos
Use of the ship's hot tubs, sauna, and indoor gym
Informal gatherings with the crew such as daily recaps and preparation for the day to come
Landing Activities
Escorted landings with small expedition boats
Loan of boots, trekking poles, and all equipment for activities
Complimentary wind and water-resistant expedition jacket
Expedition photographers help with your camera settings before landings
NOTES:
All planned activities are subject to weather and ice conditions