North America toll-free:

+1 888 203 2093

Text

& Mobile: +1 970 227 9767

Europe & ROW:

WhatsApp

& Mobile: +372 52 99 832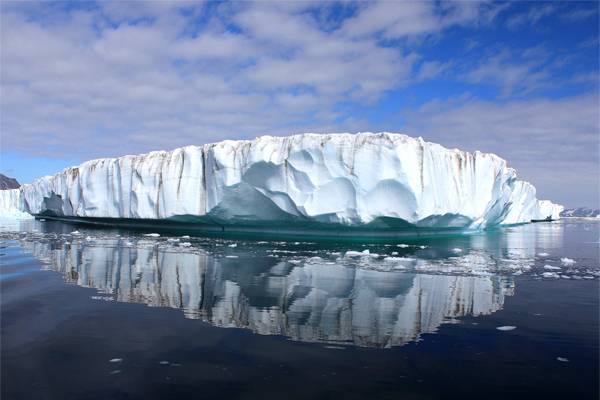 Greenland Discovery
Break away to a remote and remarkable region of the world on our 11-day Greenland Discovery: West Greenland tour aboard our boutique ship. Traditional ways of life can still be seen against a backdrop of stunning arctic scenery and immense mountains. We navigate through an intricate fjord system that teems with floating icebergs, river valleys and hillsides that keep the secrets of Norse people and settlements more than 4,500 years old. Discover UNESCO-listed World Heritage sites, Viking ruins, the pathways of Inuit migrations along unspoilt, picturesque waterways that meet with crystal-clear waterfalls. Join us on our tour of a fascinating and varied part of Greenland.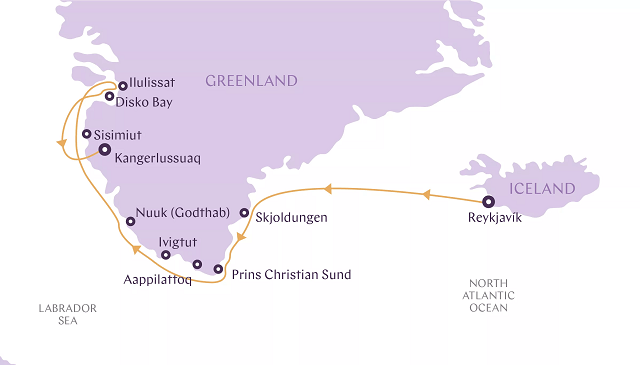 HIGHLIGHTS
Contemplate towering snow-tipped mountain peaks and sheer granite cliffs

Navigate beautiful, breathtaking fjords in an icy wilderness sprinkled with wildflowers

Admire the pretty, bright and colourful Norwegian-style houses that dot the Greenland harbour fronts

Meet with fin, blue and minke whales and polar bears as they go about their daily business

Learn more about the dramatic history of the Norse people from our on-board experts
DATES / RATES
Rates are listed per person
Start Date
End Date
From EUR
From USD

Aug 26, 2023

Sep 05, 2023

11,311

11,153
Rates are listed per person
Start Date
End Date
From EUR
From USD

Aug 26, 2023

Sep 05, 2023

11,311

11,153
ITINERARY
Reykjavik Day 1


In the centre of Iceland's sprawling capital city, the modern organ-pipe-shaped Hallgrimskirkja church dominates the top of town. Cosy bars, cafes and shops line the surrounding streets heated by Iceland's geothermal waters. The regenerated harbour is home to a striking modern concert hall. Popular trips include to the Blue Lagoon, a geothermal spa near the village of Grindavik, and the Golden Circle tour taking in Gullfoss Waterfall and the mighty Strokkur geyser in Thingvellir National Park.



At sea Day 2


As you cruise to your next port of call, spend the day at sea savouring the ship's facilities and learning about your destination's many facets from the knowledgeable onboard experts. Listen to an enriching talk, indulge in a relaxing treatment at the spa, work out in the well-equipped gym, enjoy some down- time in your cabin, share travel reminiscences with newly found friends: the options are numerous.



Skjoldungen Day 3


On the craggy east coast of Greenland, the stunningly scenic, U-shaped Skjoldungen Fjord is surrounded by lofty snow-capped mountains, dwarf birch, Arctic wildflowers and willow forests with the Thrym Glacier at one end. High rock walls, serpentine rivers and large crevasses of ice pillars known as seracs give way to carved icebergs in the fjord that gleam in a white to blue spectrum. You also have the opportunity to see whales under pure blue skies.



Prins Christian Sound & Aappilattoq Day 4


The small, colourful and pretty Nordic homes of Aappilattoq, the only settlement in Prins Christian Sund, stand stark against snow-tipped mountain ridges in this icy wilderness. A beautifully dramatic fjord in the south of Greenland, in Prins Christian Sund we move among fin, blue and minke whales, while you may also see muskox, polar bears and bearded seals. Enjoy these unspoilt, picturesque waterways where magnificent glaciers tower and granite cliffs yield to crystal-clear waterfalls.



Ivigtut Day 5


Today, explore Ivigtut's deserted buildings, enormous cryolite hole and above-ground cemetery. This settlement played a crucial role in WWII as cryolite was used to produce Aluminium to build fighter planes. Walk around the abandoned houses and learn about the history of the Ivigtut.



Nuuk (Godthab) Day 6


Home to more than a third of Greenlanders, the capital of Nuuk can easily deceive you that you're travelling through such a wild and secluded country. Also known by its Danish name of Godthåb (Good Hope), you'll see the busy old Colonial Harbour with Nuuk Cathedral prominent, colourful wooden houses, avant-garde architecture and a wonderful array of fjords with clear ice waters and an unspoiled mountain backdrop. Look out for whales and on land arctic foxes, arctic hares and reindeer.



Sisimiut Day 7


Just north of the Arctic Circle and the northernmost city in Greenland, Sisimiut remains ice free in winter and is known as an adventure sports hub. Inhabited for more than 4,500 years by the Inuit, Dorset and then Thule people, dog sled remains a common form of transport and we have a chance to see abandoned settlements but it also has a cool, modern side. Watch out for humpback whales and walrus between Sisimiut and the Thule district in the north.



Ilulissat Day 8


Sailing through the iceberg capital of the world to Disko Bay, the Ilulissat Icefjord is one of the cruise highlights. Given UNESCO World Heritage Site status, the Ilulissat Icefjord is a popular tourist destination, and thanks to the productive Sermeq Kujalleq glacier, thousands of gargantuan icebergs calve from the Greenland ice cap into the sea. The city of Ilulissat, formerly Jakobshavn or Jacobshaven, is home to as many sled-dogs as people.



Disko Bay, Greenland (Cruising) Day 9


Qeqertarsuaq is the largest town on Disko Island, the largest island in Greenland, on the west coast and part of Disko Bay, a UNESCO World Heritage Site. The Lyngmark Glacier rises above the town and the area's lush hills, basalt columns and black sand beaches reflect its volcanic origin. The area is very fertile and home to diverse species not found elsewhere in Greenland. Keep an eye out for its hot springs as we move through floating icebergs and whales.



Kangerlussuaq, Greenland Day 10-11


At the head of one of the longest fjords in western Greenland, Kangerlussuaq has a history as a World War II airbase. Visit the 60-metre tall face of the Russell Glacier on the edge of the Greenland ice cap to hear and see it crack and break off into the meltwater. Other popular activities include kayaking on the fjords and wildlife tours of the glacial areas that attract muskoxen, reindeer, arctic foxes and gyrfalcons.
SH Vega

(Luxury Expedition, 152-guests)
Making her maiden voyage in April 2022, our 5 star elegant Scandi-design boutique ship offers you an intimate setting from which you will be fully immersed in all the sights and scenery of your voyage.

Our brand new ship has been designed to journey to off the beaten path destinations and remote polar regions in style and comfort. The ship incorporates a PC5 ice-strengthened hull combined with extra-large stabilisers to make your journey as smooth as possible.
WHAT'S INCLUDED
One night pre-cruise accommodation with breakfast in a 4/5-star hotel

Group transfers from the airport to the cruise port (via our included accommodation, where applicable) and vice-versa on the scheduled dates

Onboard accommodation

All meals onboard including room service 24 hours a day

Coffee, tea, soft drinks & select alcoholic beverages 24 hours a day

Lecture programmes by our experienced expedition team and guest speakers

Shore excursion programme led by our expert expedition team

Branded Swan Hellenic expedition parka

Use of rubber boots for shore landings

Standard WIFI inclusion

Onboard gratuities & port taxes

Itineraries are correct at time of publishing and may be subject to change

Scheduled or charter flight from Kangerlussuaq to Reykjavik

Contact Cruise Norway for LOWER rates than the listed cruise line rates!
Thousands of customers served since 1999. We find you the

best value

and provide

exclusive deals

at

discounted rates

.
Submit the form or call us toll free in USA & Canada

1 888 203 2093




North America:

Text

& Mobile: +1 970 227 9767




Europe & ROW:

WhatsApp

& Mobile: +372 52 99 832
Required fields
*
DISCLAIMER:
Rates are per person and subject to change.